Virginia Law is Clear on Switched Baby Case - The Surviving Mother Gets Them Both!
BREAKING NEWS: In a Tragic Development, the parents of one of the switched Virginia babies have died in a car crash, one day after the switching was discovered but before they could have known about it.

This means that, under Virginia law, the mother of the other baby is now entitled to both babies, the baby whom she has mistakenly raised since birth and the baby for which she is the actual mother.

I am especially interested in this case because this case arises in Charlottesville, Virginia and the judge on this case, if it goes to court, will probably be a judge who has been involved in my case. My own daughter was kidnapped from me in 1990 but these Virginia judges have allowed the criminals who kidnapped my daughter to keep her.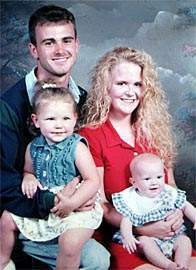 Kevin Chittum and Tamara Whitney Rogers, who were killed in a car wreck on July 4. Ms. Johnson's child may be Rebecca, right, sitting on the knee of the man she knew as her father.
---

There is no doubt as to the correct decision, should the case of the two switched Virginia babies ever go to court. The mother of one of the babies, Paula Johnson of Ruckersville, is legally entitled to both babies!

Had the parents of the other baby not died, the case would not be clear. Probably the parents would have been advised to switch babies and restore them to their actual parents.

However, since the death of one set of parents exactly one month ago, the child they were caring for has been residing with an aunt of the man who died. Clearly, a paternal great-aunt does not have a superior right to the natural mother of a child.

In addition, the paternal aunt does not have a right to the other child, either. That child should remain with the woman who has raised her since birth.

Another factor which the press has not yet noticed is that the parents who died were not married. In addition, the mother who died was only 19, and the child was three, so therefore she was only 15 years old when she became pregnant.

This means that, in all probability, her boyfriend, Kevin Chittum, who died in the car crash at age 25, was not the actual father of that child. If he was the father, he was guilty of statutory rape under Virginia law.

Since they were engaged to be married and had a second child, it would be normal for him to call himself the father of the first child, even if he was not the real biological father.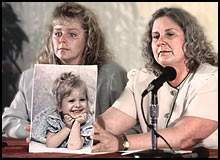 Switched Babies: Paula Johnson (left), with her lawyer, tells reporters in Charlottesville that she hopes to work out custody and visitation with the family of the other Virginia girl. (AP)
---

This would mean that the paternal aunt is not even a blood relative of the other child. She clearly has no right to either child.

Rebecca's grandparents have so far refused to allow a DNA analysis that would show for certain if they are Rebecca's blood relatives.

It will be interesting to see how this plays out, especially considering the corruption and incompetence of Virginia judges and lawyers.

A separate question is whether the surviving mother, Paula Johnson of Ruckersville, who is not married, would be willing and able to care for both children. The presumed father from whom she is trying to obtain child support was three times arrested for assaulting her. On one occasion he hit her with a bar stool in a bar.

There are also financial issues. Paula Johnson is broke, while the Buena Vista families have money. Also, there was insurance on the lives of the deceased parents, plus orphans survivors rights. Who will get that money?

Sam Sloan
---
UPDATE: Washington Post: Mother of Switched Baby sues for 31M".
---
Further UPDATE: Washington Post: Switched Babies: Shattered Families Here are links:

Contact address - please send e-mail to the following address: Sloan@ishipress.com