Getting Raymond Weinstein out of jail
I am thinking of trying to get Raymond Weinstein out of jail.

International Chess Master Raymond Weinstein has been incarcerated on Ward's Island in New York City since 1964. He was US Junior Champion in 1958 and, in 1960-1961, at the age of 20, finished third in the US Championship behind Fischer and Lombardy, defeating Lombardy, Reshevsky, Bisguier and Robert Byrne in that tournament.

Weinstein played on the US Team in the World Chess Olympiad in Leipsig and played on the victorious US Student Team which won the world championship in Leningrad, the only time the US ever finished ahead of the Soviet Union in that event.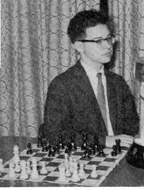 Raymond Weinstein


Unfortunately, Weinstein became mentally ill and was institutionalized in the Kirby Forensic Psychiatric Center in New York City, where he has been ever since.

I was speaking to a doctor this weekend, who informed me that it is entirely possible to obtain the release of Weinstein, provided only that somebody petition the court for his release. Since Weinstein is not incarcerated as a criminal but rather on psychiatric grounds, he is not serving a term of years which will result in his release by a certain date. Rather, he will remain incarcerated until he dies, unless somebody petitions the court for his release.

I am the only visitor Weinstein has received in more than 20 years. He clearly has no family left who is interested in getting him out. Therefore, I can petition the court as his "next friend".

There are several questions and problems involved with this. What if I do and Raymond Weinstein likes being in jail, which has been his home since 1964? I might have to undertake to be responsible for him after he gets out. Someone has suggested that I introduce Weinstein to our USCF Policy Board and get Weinstein's help in cleaning up our problems with US Chess.

As members of our chess community, there should be some chess players who are willing to help bring about the return of this brilliant and talented former chess prodigy to our society.

Is anybody willing to contribute help or assistance in this regard?

Sam Sloan

http://www.samsloan.com/weinste.htm
---
Here are links:

Sam Sloan's Chess Page


Contact address - please send e-mail to the following address: Sloan@ishipress.com