THE TRAGIC STORY OF LINDA M. DUAVIS
by Ismail Sloan


On July 8, 1990, when I arrived in the Philippines to report on the World Chess Interzonal being held in Manila, as an accredited journalist from the Gulf News in Dubai, I was detained at the airport and summarily deported back on the same flight from the Philippines. I called World Chess Federation President Florencio Campomanes at his hotel several times from the airport during my period of detention. He said that he would try to help me, but whatever efforts he made, if indeed he made any, were obviously not successful.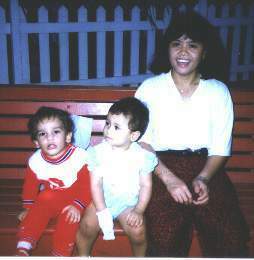 Linda Duavis with Michael and Jessica Sloan
---

I must explain that my detention at Manila Airport had little to do with chess. When I arrived on my flight from Dubai, there was a sign on the wall of Manila Airport with a list of names of persons not allowed to enter the Philippines. There were about 15 names on that list. The first 14 were Chinese names. Then, there was the name "M. Ismail Sloan" at the bottom of the list.

I knew immediately why my name was on the list. The Philippine Ambassador to the UAE at the time was a lunatic named Fortunato D. Oblena. (He is now the Philippine Ambassador to Saudi Arabia). He had arrived in Dubai on an anti-corruption campaign launched by President Corazon Aquino to stop and prevent young Filipina women from leaving the Philippines and going to other countries, where they were allegedly being "exploited", according to Cory. Because of this, plus all kinds of special rules which were designed to prevent women (but not men) from leaving the Philippines, combined with the fact that vast numbers of Filipinas were desperate and willing to do anything just to get out of that living hell called the Philippines, almost every then woman leaving the Philippines had two passports, one fake and one real. So did Linda.

When Oblena arrived in the UAE on his anti-corruption campaign, he found out that I had my three wives living with me, one of whom was a Filipina. This is a common arrangement and there is nothing wrong with it, either in the UAE or in the Philippines. For example, The Reverend Cardinal Sin of the Philippines once quipped, "A man who has three wives is a polygamist. A man who has two wives is a bigamist. A man who has only one wife is a monotonist."

Nevertheless, Fortunato D. Oblena, who has no wives at all, was incensed by the fact that I had three of them, so, in December, 1989, when my Filipina wife went to the Philippine Embassy in Abu Dhabi, he arrested and detained her as a prisoner inside the Philippine Embassy for the next one and a half years! Her name was Linda M. Duavis and she was from Buenavista, Bohol.

Campomanes knew Linda M. Duavis. The three of us had coffee together in a hotel coffee shop when Campomanes came on one of his diplomatic junkets to Dubai. Also, as I usually brought Linda with me to chess tournaments, several other strong Filipino chess players knew or had met Linda, including Rueben Rodriguez (may he rest in peace) and Rogelio Barcenilla. Since Campomanes was known or thought to be a friend of Oblena (I still have their picture together) I was hoping that Campomanes would intercede in my behalf and persuade Oblena to release Linda from his "consular custody", as Oblena called it. This, in fact, was the main reason why I went to the Philippines during the Interzonal. This also explains why Oblena would have my name posted on the wall of the airport as a person not to be allowed to enter the Philippines. He obviously could reasonably anticipate that I would go to the Philippines and create embarrassment for him concerning the fact that he was holding my wife as his personal prisoner inside the Philippine Embassy in Abu Dhabi.

I never saw Linda again. At the time of her initial arrest and detention, she was four months pregnant with our child. Three months later, as a result of the fact that Oblena failed and refused to have Linda taken in for any pre-natal checkups, she suffered a miscarriage and our baby died. This happened in March, 1990. I checked with the doctor, who was British, and I am satisfied that there was no foul play involved, only a general lack of medical attention. Linda and our baby had a condition known as hydatidiform mole, or "h-mole" for short. This is known as a molar pregnancy. I received a letter in America from Linda in April, 1991, by which time I had long since left the UAE. Linda was still even then a prisoner inside the Philippine Embassy, more than one and a half years later.

There are many Filipino chess players. I have been asking them if they can help me locate Linda. In have three old addresses for Linda in Manila, but all of them are unstable addresses in "squatter areas", as she was living in great poverty and destitution in the Philippines. Linda has 13 brothers and sisters, including Nita Duavis and Alma Duavis. The addresses I have for Linda are: Linda M. Duavis, 65 Pasillo G. Proprietarios St., Cartimar Fruit Center, Pasay City, Metro Manila, Philippines - Linda M. Duavis, 459 Letran St., Intramuros, Metro Manila, Philippines - Linda M. Duavis, Reclamation Area, Alma I, Area 4, Metro Manila, Philippines.

Anybody who can help me find Linda M. Duavis will be greatly appreciated. Anybody who finds Linda, or Linda herself, should please write to me at Ismail Sloan, 461 Peachstone Terrace, San Rafael, California 94903 U.S.A.
Sam Sloan
For another photo of Linda, see: Linda Duavis with Shamema and Shanti
For a photo of the Mad Arch-Fiend Lunatic Fortunato D. Oblena, Philippines Ambassador to the United Arab Emirates, standing with International Chess Master Rogelio Barcenilla and World Chess Federation ( FIDE ) President Florencio Campomanes see: Fortunato D. Oblena
---
Here are links:

My Home Page

Contact address - please send e-mail to the following address: Sloan@ishipress.com