Hu Long Hua, world champion of Chinese chess, poses with a tiger at the Crocodile Farm in Thailand
Hu Long Hua is the "Bobby Fischer" of Chinese Chess. Hu won the All China Championship (equivalent of the world championship) for the first time when he was 15 years old.

This was considered to be a fluke, but Hu proved it was not a fluke by then winning the All China Championship the next ten times in a row.

During the Cultural Revolution, Chinese chess was not allowed. Hu Long Hua survived by becoming the manager of a swimming pool in Shanghai.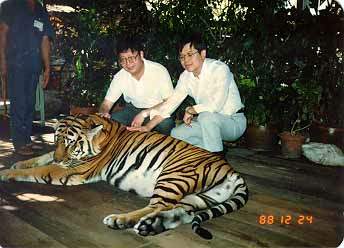 Hu Long Hua, world champion of Chinese chess, poses with a tiger Crocodile Farm in Thailand


Since Chinese chess competitions started being allowed again, Hu has not won any more championships, but he usually finishes near the top.

Because the game of go is played in Japan and is a big money game there, the Chinese government decided to cash on this in by training Hu Long Hua to become a professional player in go. Hu became a professional strength player at go and a master strength player at Western chess, but is far below the World Championship level in both of those games.

At the 1995 World Championship of Chinese chess in Singapore, Hu tried to demonstrate his abilities by simultaneously playing the best player in Singapore at Chinese chess, the best player in Singapore at go, and the best player in Singapore at Western chess.

Hu won the Chinese chess game easily, but was demolished in the Western chess game, which was against International Master Terry Toh. The go game was close. Hu finished with more points on the board, but lost due to the 5 1/2 points of komi.

Hu Long Hua is still by far the biggest name and most respected person in the field of Chinese chess.

My mother knows this tiger, too. When we visited the Crocodile Farm in 1990, my mother put her hand in the cage and petted this tiger on the back.

Music in the background is Crocodile Rock by Elton John.

Here are links:

Sam Sloan's Chess Page.

My Home Page

Contact address - please send e-mail to the following address: Sloan@ishipress.com