Submitted Experiences: Drunk Daughter-In-Law
My son brought his new bride to stay with us while they were waiting for their apartment to be ready. They had been married for eight months. I liked her the first time I saw her.

I would lay in bed with my own wife and we would get turned on hearing their passionate love making in my son's nearby room. It had not occurred to us before that probably he had been able to hear me making to love to his mother when he was growing up in that room.

One night, we all went out and had some drinks. It was decided that I would be the designated driver, so I stayed sober while the three of them all got drunk.

My son and his wife seemed to be having a contest to see who could drink the most. My wife also had too much too drink.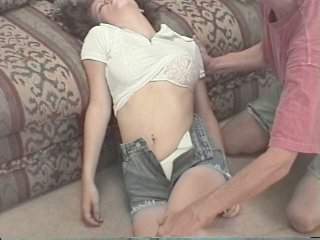 An Internet surfer shows off his Date
This picture and many similar photos have apparently disappeared from the Internet withing the past month


On the way home, my son passed out in the car. When we got home, the two women had to help me drag him into the house. My son was completely passed out. I dragged him upstairs and got him into bed. His wife got into bed with him. She managed to get his clothing off and started getting undressed herself.

I took my wife and led her to our room. I undressed her and laid her in the bed. She passed out, too. Then, I went back to my son's room to turn out the lights. Both he and his wife had passed out. He was naked but she was still half dressed. She was wearing her bra. She had pulled her pants and panties half way off. She had stumbled and fallen. She was laying half on the bed and half on the floor.

I pulled her up onto the bed. I unhooked her bra then pulled her pants and panties the rest of the way off. I could not help but think about how beautiful she was. I reached over and ran my hands over her body. She never stirred.

I did not intend this to happen, but I could not help it. I was as hard as a rock.

My son was completely passed out drunk, dead to the world. I was sure he would not notice anything and his wife would probably not either, so I reached over and put my hand on her pussy.

She was completely dry. I put my head between her legs and gave her a kiss. I put my tongue inside of her and made her really wet.

I do not know why I did this, but I got on top of her and slipped myself inside of her. She was really tight. She was passed out, but still tight. I could not imagine what she would be like if she were awake and let me fuck her. I knew I shouldn't come inside of her, but I was loving the feeling of her wrapped around me. I wanted to come but common sense told me that I had better not come inside of her.

However, I lost control. Without really intending this, I put a big wad of cum inside of her. Any way, I figured that my son and I have about the same DNA, so if she got pregnant it would not make much difference. It was bad enough that I was fucking my daughter in law, but she was passed out and my son was laying dead drunk and passed out right next to her. I came back to my senses and got off of her. I rolled them together and covered them with a sheet. I turned out their light and went to my room.

Back in my room, my wife was passed out dead drunk. I decided that I had better fuck her, too. That way, there would not be any questions the following morning if anybody asked anything. Therefore, I put a wad of cum in my own wife, too.

My wife didn't know the difference. She was sound asleep.

The next morning, nobody asked any questions. Everybody assumed that my son had fucked his wife and I had fucked my own wife.

This happened years ago. I have never told anybody about this and nobody has ever said anything. My daughter-in-law has a baby boy now. Sometimes I wonder if I am the father or whether my son is. I wonder if she remembers anything.
---
---
The above story has been derived from a posting on the Internet, but has been rewritten. It is presumed that this story is a fantasy and does not reflect reality. All identifying information has been changed or deleted.
---
Now, its your turn: Write your story in the guestbook!
---
Here are links:

My Home Page

Contact address - please send e-mail to the following address: Sloan@ishipress.com