Miss World Rape Suspect Held
By The Associated Press

RAMLE, Israel (AP) -- A court Tuesday ordered the man accused of raping the Israeli who won the Miss World contest held in jail for another 13 days.

The suspect, an Israeli citizen who migrated from Egypt in the 1970's, told reporters at a district court near Tel Aviv that he was innocent.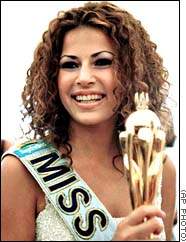 Linor Abargil
---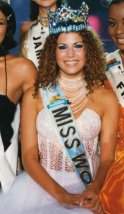 Linor Abargil
---

"I did not do this dirty thing. I did not do this disgusting thing," he said, flanked by his lawyers.

Police are investigating charges that the man raped, tied up, and choked 18-year-old Linor Abargil in Milan on Oct. 6, two months before she was crowned Miss World in the Seychelles.

Abargil went public with details of the allegations last week -- days after the man was arrested -- in order to encourage other rape victims to come forward.

Justice Ministry spokeswoman Orit Shemesh said the man would be tried in Israel and that an indictment would be issued after the police investigation is complete.

She said the Italian police, who arrested the man but later released him for lack of evidence, were cooperating in the investigation.

The 43-year-old suspect runs a travel agency in Milan. His wife and three children live in Israel. He was arrested Jan. 9 at Ben-Gurion International Airport when he tried to enter Israel.
---
Here are links:

Return to my Home Page

Contact address - please send e-mail to the following address: Sloan@ishipress.com