My Son posts sensational news about Gata Kamsky http://www.chessartist.com
My son, Peter Aravena Sloan, was a member of the Brooklyn College Chess Team which competed in the 2002 Pan American Intercollegiate Championships in Miami in December. He lives in Brooklyn near the home of Gata Kamsky, who was previously the number three chess player in the world and who lost a match for the World Chess Championship to Karpov, after defeating Anand in a match.
---
UPDATE: My son has just posted a website which shows that He is now rated number 9029 in the world.

---
Gata Kamsky was born on 2 June 1974 (my, how time flies). It seems like only yesterday that Gata was just this little kid with his father towering over him complaining about how some invidious discrimination or a plot against all Tartars was preventing his son from receiving the right pairing or some money he was due to get. Gata rarely if ever said anything in the course of these endless disputes. He just kept moving the pieces like a chess robot.

Peter Sloan with Gata Kamsky. My son Peter Aravena Sloan wearing tan jacket is standing left. Gata Kamsky wearing purple shirt is standing right. In the center is Fedor Khrapatin, Captain of the Brooklyn College Chess Team. Behind Peter is Kamsky's new blue car, a very expensive car which shows that Kamsky is doing well financially. This photo was taken just outside the campus of Brooklyn College in the Summer of 2003.




This made Gata the most unpopular chess grandmaster in the world. Although the son can hardly be blamed for the sins of the father, the chess world was relieved when Rustam announced that Gata was leaving chess to study medicine, because he could make more money as a doctor than as a chess player. (Surprise!).

Kamsky had not been seen or heard from in the world of chess since the 1999 FIDE World Championship in Las Vegas. In that event, Kamsky, who already had not played chess in a few years, won his first round game against Alexander Khalifman, but later lost the playoff game to Khalifman. Khalifman won all the rest of his matches and went on to win the World Chess Championship.

Gata Kamsky was completely dominated and controlled by his father, Rustam, who was constantly protesting or complaining about this or that. Kamsky, a child prodigy, got the reputation of being a little chess robot who made colorless moves and rarely spoke a word.

Gata Kamsky got to America as a 13-year-old defector. He was sent by the Soviet Union to compete in the New York Open. Once in New York, his father, Rustam, called a press conference and announced that he and Gata were defecting because they were being discriminated against by the Soviet Union because they were Tartars and possibly because they were Muslims. At first, they were treated with great respect in their new country, until Rustam started complaining that the Americans were discriminating against them too! Meanwhile, nobody ever saw Gata or his father pray to Allah or speak the Tartar language.

So complete was the domination of the son by the father that when they much later went to Elista, Russia to play a match with Karpov for the World Chess Championship, a newspaper reporter asked Gata, who by then was over 21 years old, whether he ever intended to marry. Gata replied, "You will have to ask my father about that."

Rustam, who had divorced the mother of Gata when Gata was still a child, later announced that he planned to use this return to Russia as an opportunity to select a wife for both himself and his son. The prospective wife would have to be 1) a virgin, 2) very young and 3) a house-girl willing to sit in the house all day long and not go out.

Gata was famous and dozens of young women mailed their photographs and resumes to Gata and his father. However, for reasons best known to them, Gata and his father returned to America wifeless. So sad!

After losing the match to Karpov, Rustam announced that Gata was quitting chess to study medicine. The chess world was relieved and happy to see them go. Gata came back only once when he was offered a large amount of money to play a two-game match against Khalifman in 1999. Gata won the first game but lost the second and then the play-off game and has not been heard from since.

Since Gata Kamsky has not been heard from in four years in 1999, it is a great sensation that my son has posted a recent picture of himself with Kamsky. The picture is posted at http://www.chessartist.com/

On this website, my son makes the sensational claim that Gata Kamsky will return to chess by playing for the Brooklyn College Chess Team in the 2003 Pan American Collegiate Championships. My son quotes Gata as saying, "It sure beats playing video games by myself, or pin ball in the Brooklyn College games room !!!".


Peter Sloan FIDE mug shot


This news is sensational for many reasons.

Gata Kamsky is still rated 2717, which makes him one of the top rated players in the world and easily the top rated American. http://www.fide.com/ratings/card.phtml?event=2000024

The Pan American Collegiate Championship has itself become a controversial event. Two colleges, University of Maryland at Baltimore and the University of Texas at Dallas, have dominated that event in recent years by offering substantial chess scholarships to grandmasters, much as the University of Nevada at Las Vegas offers big money to professional level basketball players. These two schools, with the University of Texas at Dallas headed by the leader of the notorious Redman Gang, whereas the University of Maryland at Baltimore includes a grandmaster player who was recently arrested by the FBI for thinking about having sex with a 15-year-old cyber-girl (he never actually met the cyber-girl), have completely dominated collegiate chess for several years.

Now, my son claims that a combined team including himself, Kamsky and two other very strong players will completely blow away the grandmaster teams from UMBC and UT Dallas. Brooklyn College has a strong team, not because it buys the players with cash scholarships, but because of the large Russian emigre population in Brooklyn, plus my son happens to live only a few blocks from the college.

My son has just won two major chess tournaments. He won a $4209 first prize at Foxwoods and he won the Marshall Masters Tournament. He was rated 2313 last year and his rating will certainly go up with these victories.

Here is the picture of my son with Gata Kamsky. http://www.chessartist.com/colum.htm My son, who is on the left, is six feet tall, and Gata seems to be one inch taller, so suffice it to say that Gata is not a little kid any more. The picture was taken by "Grandmaster Elect" Boris Kreiman. For those of you who do not know, a "grandmaster elect" gets his title when his chess federation forgets to send in his title application to FIDE.

But, it is really true? Is it possible that Gata Kamsky who, under his father's tutelage, refused to play unless a prize fund of at least $100,000 was at stake, will come back, now that his father seems out of the picture, to play in a rinky-dink event like the Pan Am Championships?

And what about the medical school that Gata Kamsky, who never even attended high school, was supposed to be attending? Is that Brooklyn College? When will Gata commence his medical practice?

While contemplating these weighty questions, you should look at the animated chess video my son has created. He did it to complete his requirements for a college degree in Fine Art. It will not win any Academy Awards, but it shows amazing potential. You can see it at http://www.chessartist.com/anima3.html . It requires QuickTime or another Internet movie player.

It is important to note that every picture on my son's website was hand drawn by Peter himself. This is entirely his work!!!

By the way, Peter has a major complaint. Peter complains that everybody thinks that everything Peter writes was actually written by me. He gets no credit for anything he does, he says. Now, let me clue you in on this one. It is easy to tell the difference between anything written by me and anything written by my son. My son is a very creative and artistic person and he expresses his art through spelling and grammar in a creative way. Just take a look at his many websites and you will see what I mean! Remember that Peter is a college graduate.

Sam Sloan

UPDATE: My son has taken down the web page about Gata Kamsky, after Kamsky e-mailed him several times and asked him to take it down.

ChessBase article about Gata Kamsky
---
Here are links:

Sam Sloan's Chess Page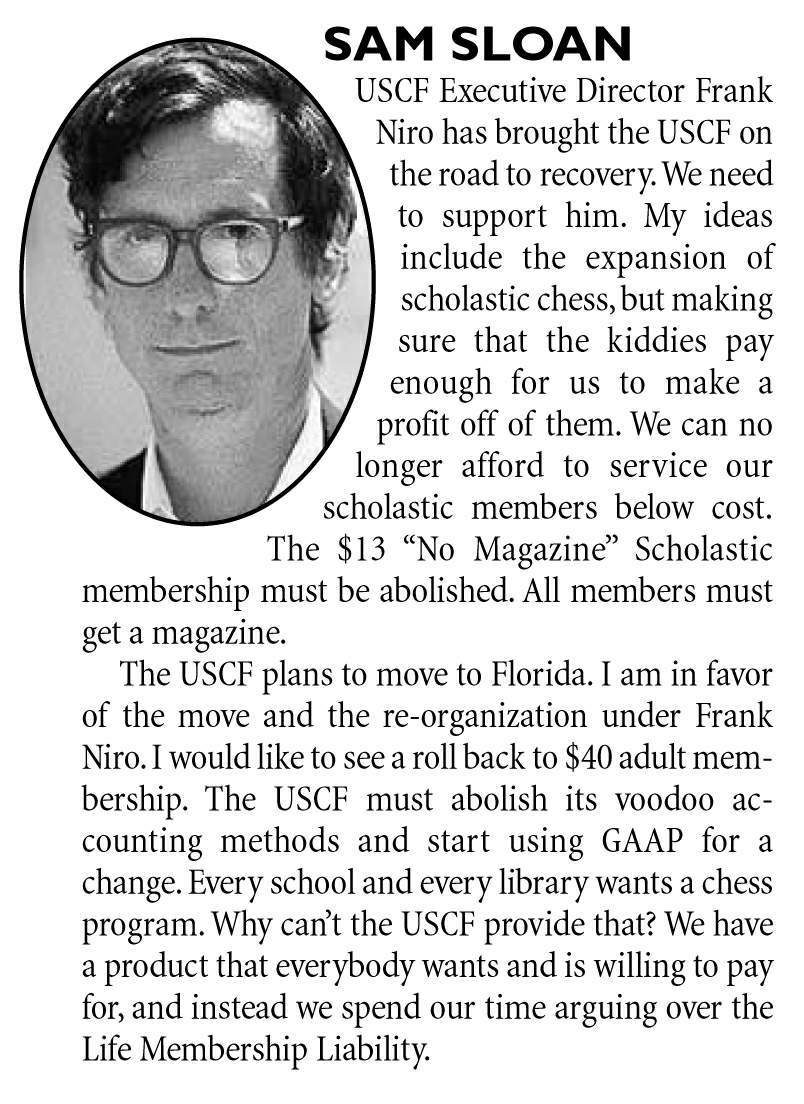 Sam Sloan
---
My Home Page
Contact address - please send e-mail to the following address:
Sloan@ishipress.com