My mother, Dr. Marjorie Jacobson Sloan, 92, has died
My mother, Dr. Marjorie Jacobson Sloan, 92, died Thursday afternoon, May 16, 2002, at Mattie C. Hall Health Care Center, Aiken, S.C.

Funeral Services will be held at the Joe Powers Funeral Home, 604 West Adams Street, Creston, Iowa, 1-641-782-0846, at 4:00 PM on Tuesday, May 21, 2002.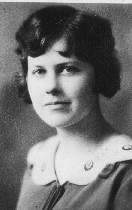 Dr. Marjorie Jacobson in 1937. She married Leroy B. Sloan on June 27, 1937.


She always said that she wanted to be buried at the Prairie Lawn Cemetery, Spaulding, Union County, Iowa, next to her parents and her sister Jeanette, and her wishes will be carried out.

She was listed in the first edition of Who's Who in American Women and had an exceptionally distinguished career as a medical doctor and a child psychiatrist.

Her great-grandfather, Peter Cassel, was the leader of the group which in 1845 established the first Swedish Farming Settlement West of the Mississippi. This led the great population of Swedes who came to settle in Iowa.

Sam Sloan
---
What do you think? Express your opinion in the guestbook!
---
Here are links:

My Home Page

Contact address - please send e-mail to the following address: Sloan@ishipress.com