Obituary of Dr. Marjorie Jacobson Sloan
Dr. Marjorie Jacobson Sloan, 92, died Thursday afternoon, May 16, 2002, at Mattie C. Hall Health Care Center, Aiken, S.C.

Funeral Services will be held at the Joe Powers Funeral Home, 604 West Adams Street, Creston, Iowa, 1-641-782-0846, at 4:00 PM on Tuesday, May 21, 2002.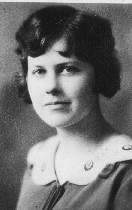 Dr. Marjorie Jacobson in 1937. She married Leroy B. Sloan on June 27, 1937.


She always said that she wanted to be buried at the Prairie Lawn Cemetery, Spaulding, Union County, Iowa, next to her parents and her sister Jeanette, and her wishes will be carried out.

She was listed in the first edition of Who's Who in American Women and had an exceptionally distinguished career as a medical doctor and a child psychiatrist. She was a Fellow of American Academy of Child Psychiatry and of the American Orthopsychiatric Association and a member of PEO.

Her great-grandfather, Peter Cassel, was the leader of the group that in 1845 established the first Swedish Farming Settlement West of the Mississippi. This led the great population of Swedes who came to settle in Iowa.

Helen Marjorie Jacobson was born on March 17, 1910 in Spaulding, Union County, Iowa, about four miles north of Creston, Iowa. The previous year, her parents, Peter Wesley Jacobson and Mary Elizabeth Graham, had established a homestead near Towner, Colorado. Marjorie was born exactly nine months after her parents had been married. Her mother, realizing that she was pregnant, came back to Iowa to give birth and then immediately returned with the newborn child to Colorado. As a result, Marjorie never had a birth certificate, but she always said that she knew that she had been born.

The first few years of her life were difficult, with a shortage of food, as the homestead failed. Her parents returned with her to Creston, Iowa. She lived on the family farm, ten miles north of Creston. A total of six children were born to her parents in the eight years from 1910 to 1918.

Studious and hard working, she worked her way through college, the first member of her family to attend higher education, and even sent money home to support her parents and siblings. She became the owner of the family home at 510 West Montgomery Street in Creston, in a tax sale after her parents had been unable to pay the real estate taxes. She graduated from Cottey Junior College in Nevada, Missouri in 1930 and then went to the State University of Iowa, receiving her BA degree in 1932. She received her medical degree in 1936 and was one of only three women in her graduating class at The University of Iowa School of Medicine.

She married Leroy B. Sloan on June 27, 1937, whom she had met while he was attending the State University of Iowa School of Law, where he received an LLB degree. Two children were born of this marriage.

She completed her internship at Norwegian-American Hospital, Chicago, in 1936-37. She was a resident pediatrics at Children's Memorial Hospital in Chicago in 1938, and a resident in psychiatry at Psychopathic Hospital, University of Iowa, 1939-1942. She completed her residency at Commonwealth Fund Fellow Child Psychiatry Mental Hygiene Clinic in Louisville, Kentucky in 1942-43.

After completing her medical training, the best paying job she could get was at Memorial Guidance Clinic, Richmond, Virginia, so she moved to Virginia, which proved to be a fateful decision. Before long, Dr. Coghill, director of the clinic, went on leave, and never returned. She became Acting Director, where she remained until 1952.

She then became director of two state mental health clinics, the Tidewater Guidance Center in Williamsburg and the Lynchburg Guidance Center in Lynchburg. She commuted between the two clinics, a distance of 200 miles. In 1955, she moved to Lynchburg, another fateful decision, and eventually became full-time director of the Lynchburg Guidance Center, giving up the commute to Williamsburg.

For the next 23 years, until 1975, she was director of the Lynchburg Guidance Center, a state sponsored mental health clinic. However, in 1975, under a state program called Chapter 10, her clinic was transferred from state to local control. There were difficulties in this transfer and eventually she was forced to leave her position. She became a resident psychiatrist at Catawba State Hospital near Roanoke for one year in 1976 and then went to Western State Hospital in Stanton, Virginia, where she was Chief of the Geriatric Unit until 1984, retiring at age 74.

Shortly after she retired, a group of Lynchburg Lawyers got together to try to take control of her financial assets. This group of lawyers included Killis Howard, Leighton Houck, Richard Miller, Don Pendleton, Frank Davidson, Michael Gamble, Lawrence Janow, Cecil Taylor and William Petty. On August 25, 1986, before litigation had started, but knowing that it was about to commence, Dr. Sloan fled the jurisdiction. The first of many court cases was filed two days later.

Dr. Sloan spent the next four years on the run, moving from country to country, while the Lynchburg lawyers kept making inquiries about her "whereabouts and welfare", as part of a plan to have her kidnapped and brought back to America. She always managed to keep lock-step ahead of them and their hired kidnappers, until she was slowed down by a bout of pneumonia. When she had finally recovered from pneumonia and was about to be discharged from the hospital, this consortium of lawyers had her kidnapped out of her hospital room in the Bangkok General Hospital in Thailand on September 3, 1990. They had her brought back to America, but did not allow her to return to Virginia, where she could have defended herself in the court cases they had brought against her. Instead, she was brought first to Silver Spring, Maryland and then to Aiken, South Carolina, where she was not allowed to defend herself in court and was locked up for the next twelve years until her death.

Meanwhile, they had sold her house at 917 Old Trent's Ferry Road in Lynchburg and had taken the money.

Dr. Helen Marjorie Sloan is survived by her two sons, Samuel Howard Sloan and Creighton Wesley Sloan, and by ten grand-children, Peter, Mary, Shamema, Cassel, Armanda, Michael, Jessica, George, Anusha and Sandra Sloan. Her ex-husband and her four brothers and one sister all pre-deceased her.

There are many Internet pages and websites devoted to the life of Dr. Helen Marjorie Jacobson Sloan. These include:

http://worldconnect.rootsweb.com/cgi-bin/igm.cgi?op=GET&db=samsloan&id=I4
http://www.samsloan.com/pafg01.htm#4
http://www.shamema.com/dr-marj.htm
http://www.samsloan.com/mamanews.htm
http://www.samsloan.com/momsbiog.htm
http://www.anusha.com/swedish.htm

Sam Sloan

SLOAN, Helen Marjorie, physician; b. Spaulding, Iowa., March 17, 1910; d. Wesley and Mary (Graham) Jacobson; Asso. Edn., Cottey Jr. College Women, Nevada, Missouri, 1930; B.A., U. Iowa., 1932, M.D., 1936; m. LeRoy B. Sloan, June 27, 1937 (div. Aug. 1956); children - Samuel Howard, Creighton Wesley. Intern, Norwegian-American. Hosp., Chicago., 1936-37; resident pediatrics Children's Memorial Hospital, Chicago, 1938, psychiatry Psychopathic Hospital, University of Iowa., 1939-40, 41-42; Commonwealth Fund fellow child psychiatry Mental Hygiene Clinic, Louisville 1942-43; psychiatrist. Memorial Guidance Clinic, Richmond, Va., 1943-52; psychiatrist, dir. Lynchburg Guidance Clinic, 1952-, Tidewater Guidance Clinic, Williamsburg, Va., 1952-57. Fellow American Orthopsychiatric Assn.; member. American Psychiatric Assn., American. Academy of Child Psychiatrists, Phi Theta Kappa, P.E.O. Episcopalian. Home: Trent's Ferry Rd. Office: 512 Clay St., Lynchburg, Va.

I am driving to Iowa to attend my mother's funeral. It is a trip of 1193 miles. Does anybody want to go with me? I am leaving tonight from New York City. I have a Lincoln Towncar.

Sam Sloan
---
What do you think? Express your opinion in the guestbook!
---
Here are links:

My Home Page

Contact address - please send e-mail to the following address: Sloan@ishipress.com