Miss Universe Controversy: Trump Rules in favor of Miss Puerto Rico
The New York Post for May 11, 1998 reports that Donald Trump, who owns the Miss Universe Contest, has ruled in favor of allowing Miss Puerto Rico to compete.

A controversy arose because Miss Puerto Rico, Joyce Giraud, posed almost completely naked in underwear ads prior to becoming Miss Puerto Rico.

Miss Puerto Rico - Joyce Giraud
---

However, Donald Trump, famous for bedding and marrying beautiful women, has made it clear that he wants beautiful women in the Miss Universe contest this year, and is not especially interested in their college board scores, their abilities on various musical instruments, or their stated commitment towards working with crippled children after they win Miss Universe.

This controversy is reminiscent of pervious scandals involving beauty contests. The most famous case occurred in 1984, when Vanessa Williams became the first black Miss America, only to have her title stripped a few days later when it was discovered that she had posed in hard core lesbian porn. Photos of her were later published in Penthouse magazine.

However, stripping her of her title did not work, as this incident made Vanessa Williams by far the most famous winner of Miss America and propelled her into a TV and movie career. The person who was awarded the title in her place has been forgotten.

There was an earlier incident involving Miss Universe winner Amparo Muñoz from Spain, who soon became a porn star. This scandal was hushed up, and it was only said that she "had been unable to complete her term of office."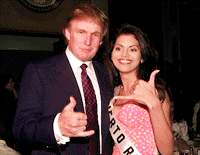 Donald Trump with Miss Puerto Rico, Joyce Giraud
The Donald would clearly like to receive a suitable and appropriate reward from Miss Puerto Rico for allowing her to compete for Miss Universe, in spite of feminists protests against her. Clearly he is entitled to the same. Do you think that he got it?
---

Spain's Amparo Muñoz won in 1974. She did not finish her reign, but became a soft porn star and made one movie in the Philippines, where she had won the Miss Universe contest, where she was involved in a scandal. Amparo Munoz is still a film star in Spain and starred in three 1996 movies, including: Lycantropus - The Full Moon Murders, and Familia even though she is 43 years old! (She was born on 22 June 1954 in Málaga, Spain).

Miss Wales, Helen Morgan, won the Miss World title in 1974 and also finished second to Amparo Munoz in the Miss Universe contest, but was de-crowned because it was found out that she had been an unmarried mother plus she was by then also married.

Since then, there have been background checks on women involved in major beauty contests. This may also explain why so many "beauty pageant" contestants are just slightly above average in appearance but have a flawless reputation.
---
My personal opinion is, of course, that even if she is both married and an unmarried mother, plus she is a prostitute and a porn star, but still she is able to defeat the other contestants in fair competition, she should be declared the winner. When I enter a chess tournament, the director rarely interrogates me about my personal life.

Sam Sloan

Here are links:




Contact address - please send e-mail to the following address: Sloan@ishipress.com