Surinder Singh is in a Coma!
Kala is in Jamaica Hospital in a Coma. He was apparently hit by a car while staggering in the street drunk but there seems to be no police report and nobody knows what happened.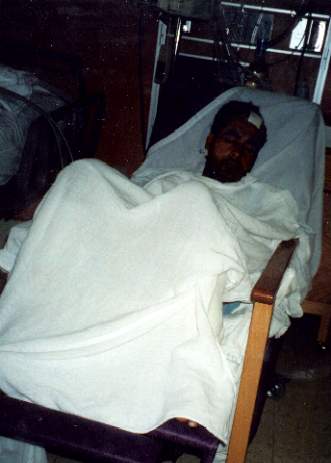 Surinder Singh is in a Coma
---

His date of birth is 4-13-1966.

I suspect that once they check his fingerprints, he will be found to have many more cases pending against him plus prior convictions as well.

According to Dayawathie, Surinder Singh is wanted in India for murdering a woman and her unborn child, which is why he fled to the United States.

His INS number is A072483653 and he was ordered excluded from the USA on 8-25-1995.

Now, how can I get him detained by the INS and deported to India?

He will probably be arraigned tomorrow morning shortly after 9:00 AM in Queens Criminal Court, Courtroom AR-1, on level G-1, so this matter is urgent. The Queens Criminal Court is located at 125-01 Queens Boulevard. This is about two blocks southeast of the Kew Gardens - Union Turnpike subway station of the E, F, and G lines.

Information about his case should be available from (718) 546-0700.

The numbers of the clerk's office are (718) 520-1985 and (718) 520-1995.

The arrest was made by Officer Feduniak, assisted by Officer Corcoran. Four other officers were present as backup. Because the arrest was made in the Queensbridge Housing Project, Surinder Singh was not taken to the nearest precinct. Instead, he was taken to Police Service Area 9 located at 155-09 Jewel Avenue, Flushing, Queens. It was not until about 2:00 PM that the paperwork was completed and he was taken to Central Booking.

At the police station were Sergeant Rudolph along with Officer Jerabek and Officer Labin.

He is being charged with assault, menacing, and trespassing, in addition to any old pending charges including the 1997 DWI charge.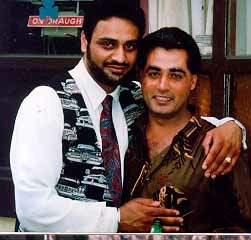 Surinder Singh, also known as Kala, being embraced by his uncle
---

The arresting officers can be contacted at (718) 786-0230.

Sam Sloan
---
UPDATE: Surinder Singh has now seen the judge. A bail of only $1 (one dollar) was set on the new charges, but he was remanded to the Queens House of Detention on the old charges. His next court date is 1-18-2000. He will not be able to get out of jail before then, as there is no bail on the old charges.

A bail of $1 is set as a convenience to the prisoner when he is being held on multiple charges. If he is RORed (released on his own recognizance) on one charge but held in jail on another, his time spent in jail will not count as time served on the RORed charge.

However, if the other charges are subsequently dropped, he will have to come up with a dollar to get out on the remaining charge.
---
UPDATE: The case was heard in Queens Criminal Court on January 18, 2000. A Punjabi interpreter was brought in, as Surinder Singh speaks only the most crude and broken English.

What developed was that in 1997 Surinder Singh had pled guilty to a misdemeanor offense of first time Driving While Intoxicated. He had been sentenced to pay a fine of $586. However, he had never paid the fine. This had resulted in a warrant being issued for his arrest.

On January 18, Judge S. Paynter re-sentenced him to serve 15 days in jail, instead of having to pay the fine. Since he was arrested on January 13, this would keep him in jail until January 28, except that several days will be cut from his time by the jail staff.

On the charges I brought, Surinder Singh pled guilty to one charge of 240.26 harassment. He was given an ACD, which means that if he stays out of trouble for one year, this conviction will be stricken from the record.

He also agreed to a one-year order of protection, which provides that he shall not approach me or my family at home, school or place of business.

Finally, he agreed to complete an anger control program and a drinking and driving program.

This is the most I could have hoped for. However, the situation is far from ideal. When he gets out of jail, he will undoubtedly get drunk very soon and it is likely that he will try to attack me again. However, with the order of protection which I now have, I should be able to get him arrested if he tries anything.

Also, it can be just about guaranteed that he will never complete the two programs. This makes it only a question of time before he is subjected to a new arrest.

My thanks go to Assistant District Attorney Lourdes Ventura, who was the ADA on duty in the courtroom and who brought this matter to successful conclusion.

Sam Sloan
---
UPDATE: Surinder Singh was released from the Queens House of Detention on Saturday, January 22, 2000, after spending nine days in jail. However, he has not showed up and it is being reported that he is now in the custody of the Immigration and Naturalization Service and that he is going to be deported to India. His number is 1-917-375-7513.
---
Here are links:

Return to my Home Page

Contact address - please send e-mail to the following address: Sloan@ishipress.com