Sam Sloan drives through Wales with Kayo Kimura
In case all you sports fans have been wondering what happened to me, here is what I have been doing.

September 8, 2000, I arrived in Heathrow Airport on an Air India flight, after having been refused boarding on Icelandair seven days in a row.

Kayo sent me e-mail that she would be at the YHA in Bristol, so I took a bus from the Airport to there. This cost £24. When I arrived, they told me that Kayo had left two days before.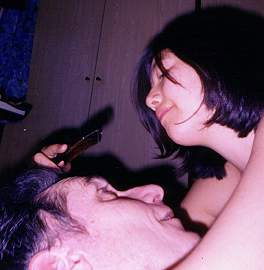 Kayo Kimura attempts to comb Sam Sloan's Hair


I sent her e-mail and eventually she wrote me that she was at the YHA in Plymouth. As it was too late at night to catch a bus, I spent the night in Bristol.

Next morning, I took a train to Plymouth, where I met Kayo at the train station. Then she and I took a bus to Penzance, famed for "The Pirates of Penzance".

We spent the night there at the YHA. The following afternoon we succeeded in renting a Hertz Rent-a-car in Truro. They refused to accept her credit card because we are not relatives and are not legally married, so she paid them in cash and I used my credit card.

We drove to Land's End, "the first and last place in England". Then I convinced her to go to Cardiff, Wales, so I can add another country to my list. I have been to 76 countries, but I am not sure that Wales counts as a country.

We spent the night in a bed and breakfast on Newport Road in Cardiff. The next morning we drove to Brecon.

However, listening to the radio, we became aware that the country was running out of petrol and Wales did not have any at all, so we returned to Cardiff.

There was no petrol in Cardiff, but we heard that there was some in Caerphilly so we went there, but there was none.

I drove back to Cardiff. Kayo wanted to abandon the car completely but it was on my credit card so I insisted of driving to England where, the radio said, there was still some gas.

We ran out of gas on highway M4. We climbed through the bushes and scaled a high fence to get off the freeway. We called Hertz from a pay phone, but they said they had no petrol. They told us to go back to the freeway and call from the emergency call box.

As the highway was completely fenced off, we had to climb a fence and then push our way through thorns and bramble bushes. We reached the highway, after suffering many cuts on our arms and legs.

Kayo with Sam on top of St. Michael's Mount near Penzance, England


I called from the yellow call box. Soon, a tow truck came and pulled us off the highway to a McDonalds. The driver was named Andy Waters.

There was no petrol but there was a hotel next to the McDonalds, so Kayo Kimura sprung for her credit card and got us a room for the night for £40.

Next morning, we discovered that only one mile away was a the only petrol station in Wales which still had gas left. We walked there, but they refused to let us fill a gas can. Finally, they agreed that if we hired their tow truck to tow our car to their station, they would sell us £10 of petrol, or about 12 liters.

Kayo paid £52.50 for the tow truck to tow our car to the gas station. Then we had enough gas to drive to England. (Remember, we were in Wales).

We still did not have enough gas to reach London. Fortunately, in Reading, England on M4 we found a service station with plenty of gas and filled up.

Full of gas now, we took a side trip to Stonehenge which is much more impressive in person then from photographs.

I drove Kayo to Heathrow. We took a room in the Ibis Hotel. Then, we returned the Hertz Rental Car. They charged me for not returning the car full of gas, which was outrageous since the entire country was out of gas. I had driven 668 miles in two days.

The next morning, September 14, I took Kayo to the airport and saw her off on her flight back to Japan.

Kayo was anxious to return to Japan on time so that she could collect her unemployment check.

Sam Sloan

I left out the part about her calling me "Mr. Impotent".
---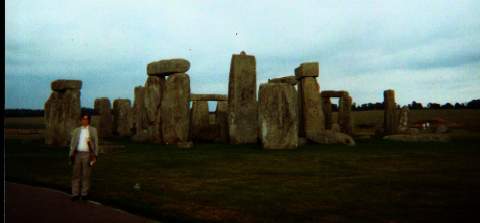 Sam Sloan at Stonehenge in England. Photo credit: Kayo Kimura


I made a mistake in my account, because Kayo and I spent two nights in Penzance, not one. This affects the count on the number of days we were together.

It went like this.

Friday, September 8: I arrive at 7:55 AM on an Air India flight from New York. I take a National Express bus to Bristol, a distance of about 120 miles, but Kayo is no longer there.

Saturday, September 9: I take a train to Plymouth. Kayo meets me at the train station and then we take a bus to Penzance. We spend the night at the YHA Youth Hostel in Penzance.

Sunday, September 10: We try to rent a car, but all the car rental places in England are closed for Sunday. Therefore, we spend a day touring St. Michael's Mount, an old castle where King Charles I briefly hid, while Oliver Cromwell was trying in his ultimately successful effort to chop off his head. We spend the night in a bed and breakfast near the train station.

Monday, September 11: Car Rental places are now open, but we arrive at 10:00 AM and by then every car has been rented, except for one car rental place which advises me that they do not rent to foreigners, including Americans. However, we take a train to Truro where at 3:05 PM we get a Hertz rental car. I then drive the car back to Penzance, where we collect our luggage and then to Land's End where we climb around the cliffs and take pictures. I then drive the car to Cardiff, arriving at 10:00 PM. I drive a total of 275 miles that day.

Tuesday, September 12: We drive to Brecon, which is 40 miles north of Cardiff. Kayo has an ambitious plan for us to drive all the way around Wales, but then we learn from the news reports that there is no gas at all in Wales. Although the Hertz rental car was full of gas when we got it, I have now driven 315 miles and it is nearing empty.

I call Hertz on a pay phone. They tell us to take the car to Hertz Rental Car in Cardiff and they will exchange it for a car full of gas. I drive the car to Hertz, which is next to the train station in Cardiff, but they tell us that they have no petrol at all and we have more gas than they do.

We hear a rumour that there is gas in Caerphilly, which is 11 miles north of Cardiff. I drive there but they do not have any gas either.

At this point, Kayo starts agitating that we should simply abandon the car and take a train. However, I have contracted to drive the car to Heathrow Airport and I know that Hertz will charge my credit card if I do not.

Finally, over Kayo's objections, I drive back to Cardiff and get on M4, which is a superhighway crossing England and Wales. However, about ten miles out of Cardiff and just before reaching Newport, we run out of gas. We get out of the car and climb the hill and climb over a high wooden fence, to be greeted by a mob of schoolgirls whom we cannot understand. The girls either speak Welsh or a dialect of English. We find ourselves inside the school yard of an English girl's school. Fortunately, the girls are friendly and do not call the police.

The girls direct us to Beaufort Road. We call by pay phone, but Hertz tells us we have to climb back down on the highway and call from there.

These highways are constructed so as to make it impossible for a pedestrian to get off and on. So, we have to climb a fence into a briar patch and then crawl through the thorns and bushes to get back on the freeway so we can call from a yellow emergency call box. We sustain many cuts and scratches along the way. I find the call box and make the call. The tow truck comes after a half hour. He pulls us off to a McDonald's restaurant.

I then call British Airways, because Kayo has a reservation to fly back to Japan on September 13 at 1:25 PM. Fortunately, British Airways agrees to change the date of the reservation until September 14.

We then spend the night, shacked up in a nice hotel next to the McDonald's, which only costs £40.

Wednesday, September 13: The next morning, I find out that there is a filling station only one mile away that still has gas. They still have gas because they closed at 5:00 PM the previous day before the gas panic had really hit. They are probably the only station in all of Wales which still has any gas at all. However, they refuse to allow us to fill a gas can. I soon learn the reason, because all the cars lines up at the pump want their gas cans filled too, in addition to having their tanks filled.

Finally, the filling station agrees to sell us £10 worth of gas provided we pay £52.50 for their tow truck to tow our Hertz rental car to the pump. Also, they will not require us to wait in the three-hour line which has formed.

After getting our £10 worth of gas, I drive to England. I find a pump on M4 which only has A4 gas. I am told that putting this kind of gas in the car will ruin it, but I doubt this. I put in 10 litres, which is enough to make sure we will make it to Heathrow Airport.

At Reading, England, we find a gas station with plenty of gas. Being on M4, they must have a big tank and have not run out of fuel yet. We fill up without difficulty, and then after a brief argument drive to Stonehenge, which I have not seen before but Kayo has seen.

After Stonehenge, I drive the car to Heathrow Airport. Hertz rental car charges me £185 on my credit card for the car. I protest. They have charged me for being one day late, because I was supposed to return the car at 3:05 PM but it is now 7:00 PM, and they have charged me 24.04 pounds for not returning the car full of gas. Also, they have forgotten that Kayo posted a cash deposit of £115 pounds when we took out the car.

Finally, they relent. They cancel the charge for the late fee plus they find Kayo's £115, so they only charge me £24.04 for returning the car without it being full of gas. They are charging me at the rate of £1.38 per litre.

Thursday, September 14: After a night in the Ibis Hotel which costs £62, I take Kayo Kimura to Heathrow and see her off on the British Airways flight. I then go to the Heathrow Police Station and make a complaint to Sergeant Holland there, 0208 8977444, about my daughter Shamema being kidnapped on October 8, 1990. My daughter was kidnapped in Abu Dhabi, United Arab Emirates, but there was a change to TWA flight TW 783 leaving London at 18:45 on 8 OCT on a flight to Washington. We establish that the kidnappers plus my daughter were detained briefly by Special Branch in Heathrow Airport because my daughter's surname was not the same as the surname of the kidnappers. However, any record of this incident, if there ever was one, has long since been destroyed.

Sorry that I did not mention the word chess here, so I will now.

Sam Sloan in London at http://www.hydeparkinn.com

http://www.samsloan.com/ticket-s.htm
http://www.samsloan.com/kayoemer.htm
http://www.samsloan.com/kayocomb.htm
http://www.samsloan.com/graduate.htm
---
On Mon, 18 Sep 2000 09:20:27 -0400, cjalden@mindspring.com (Alden.Charles) wrote:

>In article <39c58760.11093312@news>, gmacdonald11@home.com (Greg >Macdonald) wrote: > >>Could anybody give me an approximate size, in cubic kilometers, of the >>ego that is required to actually post your *trip diary* on usenet? > >Astronomical units rather than just metric may be necessary. >Particularly when the main point of the story is that he found a woman to >accompany him somewhere - although it seems all they did was bumble around >lost and waste all her money.

Apparently, you are not aware of the severe crisis which faced England during the days covered by my account.

The Prime Minister of England, Tony Blair, went on national TV and stated that the fuel crisis would be over and the blockade would be broken within 24 hours.

He was wrong. Even the BBC reported that the blockade of fuel was broken, when it was not. The BBC has since been accused of being a Labour sympathizer.

In our hotel room, I saw a BBC broadcast showing a truck driver getting in his truck and driving home because the blockade was over. It turned out that this was footage was fake.

So, when Kayo and I finally ran out of petrol on M4 just 20 miles from England, we were not "bumbling around". What happened to us was happening to thousands of other drivers around the country.

Plus, we had no choice. Hertz Rent-a-Car refused to give us a break. I called Hertz and they said, "We are not responsible for the actions of the British Government".

They told me on the phone that if I did not return my rental car on time and full of gas to the Hertz office at Heathrow Airport, they would charge my credit card and indeed they did.

When and if the Labour Government of England falls because of this incident, perhaps then you will understand.

Sam Sloan
---
I am returning from England to New York tomorrow September 19.

I tried to fly today, but I had too much to do. I went to the Companies House today and looked up corporate records on Ishi Press. Unfortunately, the old records more than five years old are not in London but in Cardiff. I will have to order these from America.

Then, I went to a company called "Something Else" where Jenny Dare recorded a radio interview which will apparently be broadcast on British Airways flights to America. I was interviewed as a New York City taxi driver. This broadcast will give British Airways passengers some advance information about what will likely be their first experience with America, which will be a taxi ride from JFK airport to Manhattan.

When and if I find out that this is being broadcast on British Airways flights, I will announce it on my web site.

I will arrive back in New York City with zero money, as all my bank accounts have been exhausted. Fortunately, I have a subway card with money on it which will enable me to get from JFK Airport to my house. After that, I will have to drive a taxi for two days to get some money again.

England is less expensive than Tokyo but is certainly more expensive than New York.

Sam Sloan
---
What is your opinion of Kayo Kimura? Express your opinion in the guestbook! (You can be sure that she will read this).
---
Here are links:

My Home Page

Contact address - please send e-mail to the following address: Sloan@ishipress.com