Conversation between Marinza Bruineman and Manhattan DA Linda Fairstein
FANTASTIC NEWS: December 21, 1999: The Jovanovic conviction in the "Cybersex Torture Case" has just been reversed. Check your morning newspapers, as this news will be in every newspaper in New York, possibly in every newspaper in the USA.

The grounds for reversal were exactly the grounds which have been cited on this web site, that evidence was withheld from the jury vital to the defense.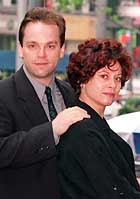 Marinza Bruineman
---
The Silent Invasion - Breast Cancer
Here news articles about this decision:
---
I called Linda Fairstein in March, 1997.
I called her in indignation about what happened to Oliver Jovanovic vs. what happened to Paul Krath.

In February a man named Paul Krath had been arrested, a picture of him being led away in handcuffs was in the Post.
Two days later he was released on $35,000 bail. Linda Fairstein dropped the case almost immediately when the cops provided her with a tape on which the accusing woman had said that she had a great time, and would like to see him again.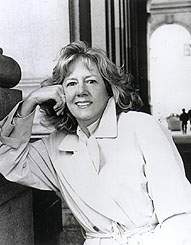 Linda Fairstein
---
Paul is now busy suing the city for false arrest.

At the time I called Fairstein to complain.
She picked up the phone immediately and here follows the conversation:


F. What can I do for you?
M. Nothing, I would like to file a complaint against your office in regards to Oliver Jovanovic.
F. silence.
M. How come this guy Krath is let go, and Oliver still does not have his computers back?
F. Oh, that is a whole different story・
M. I don't think so, they met the same way, it was very similar・How come Paul Krath's
bail was set for $35,000 and Oliver Jovanovic's bail was ten times that much??
F. Oh, those two situations are totally different.
M. Tell me something, what kind of monster is he that warranted half a million dollars bail?
F. Based on the evidence I found in his apartment I have reason to believe that he has
committed this crime.
(Note that I had already seen the evidence list - with zipdiddlysquat on it・except for floppies, computers and books and video tapes・
M. What was in the evidence?
F. I cannot tell you that now.
M. I would like to know what danger I'm in with this guy.
F. The evidence will become public during trial.
M. Tell me something then, doesn't it behoove you as a woman to tell another woman what
grave danger she may be in at the hands of this monster?
F. He poses no danger to the average woman on the streets of New York, just don't go to
his apartment, he is into tying women up, and believe me, no women in New York like to
be tied up.
M. That is ALL???!!!!
F. Yes. Why don't you come to my office and we'll talk.
(we set a date for Monday 4/17/97 but I never went).
---
UPDATE: The appeal in the Jovanovic case was argued before the Appellate Division of the Supreme Court of the State of New York on February 2, 1999: 'Cybersex' Appeal Raises Shield Law, Consent Issues.
---
MORE UPDATES: Oliver Jovanovic has been in jail for more than one year now, for a crime for which no informed jury would have convicted him. Meanwhile, the New York Post has come out again against this conviction.

Manhattan Sex Crimes Prosecutor Linda Fairstein, on a book selling tour, gloats to the Times of London about how she successfully hid evidence from the jury about this case. See: SEX CRIMES AND THE CITY; INTERVIEW; LINDA FAIRSTEIN - Times of London , Saturday, October 30, 1999.
---
What do you think? Express your opinion in the guestbook!
---
Here are links:

Contact address - please send e-mail to the following address: Sloan@ishipress.com