Case Was Dismissed, And So Was Girlfriend
Ellis Henican, Newsday: November 18, 2001
They're toasting Oliver Jovanovic.
From Columbia graduate student to tabloid "cybersex fiend" and back again, Oliver is a free man at last, five years after he was charged with the sexual torture of a Barnard undergrad he met on the Internet. So his jubilant family and friends are gathering Sunday to celebrate.
But there's a striking absence from the guest list.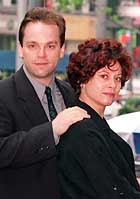 Marinza Bruineman


She is Marinza Bruineman, Oliver's laser-focused, Dutch-accented, long-time girlfriend, who stood loyally by him through trial, conviction, prison, appeal and, the day the 35-year-old's retrial was set to begin, a decision by the Manhattan district attorney's office to drop all charges. The alleged victim was balking at testifying again.

"You must have heard," a distinctive voice said on my phone one day last week. "The case was dismissed. Well, so was I."

Ah, Marinza.

What were you doing with that guy in the first place?

"It was love, of course," she said, after we'd agreed to meet near her Wall Street office and finally got a chance to sit down. "I also thought I was helping to get justice for someone falsely accused."

And now?

"Now I am not so sure."

Oliver did not return the telephone messages I left at his apartment. No doubt he has his own version of the relationship.

But the story of him and Marinza, as you might imagine, seems to have had its own special intensity from the start. It was at once conventional and very, very strange.

They too met on the Internet, after Oliver had been arrested. "He never tried to hide the charges from me," she said.

He was a molecular-biology student with a brainy manner and thinning hair. She was seven years older, an assistant vice president for a major bank with thick dark hair and piercing eyes, one brown and one green.

They went skiing. They shot pool. They did the things that grown-ups do alone. Even more so.

"He could be gentle," she said. "He was smart. He was actually very sociable. He was this curious puppy dog who wanted to be part of my life. Before he went to prison, he was all of that. It was only later that he became a kind of Jekyll-and-Hyde."

When Oliver's trial began in 1998, Marinza was constantly there.

Along with his mother and his attorneys, she was really his staunchest advocate, working the courthouse hallway, spinning the reporters, confronting those she considered too sympathetic to the DA's case.

The prosecutors said Oliver had met the Barnard woman in a chat room and invited her back to his apartment in Washington Heights. There, he'd allegedly held her prisoner for nearly 24 hours, tying her up, torturing and humiliating her - and finally sending her on her way.

None of that fazed Marinza. "I firmly believed Oliver was falsely accused," she said.

The defense lawyers claimed that whatever had happened in those 24 hours was entirely consensual, role-playing sex games between willing adults. But the judge kept a series of racy e-mails out of evidence. The jury came back with "guilty" to kidnapping, assault and sexual abuse. The sentence was 15 years to life.

"Prison was hard on Oliver," Marinza said. But I just kept focusing on the case."

With her boyfriend away and an appeal progressing slowly, she conducted her own investigations.

She spent time with the accuser's family upstate. She became especially close to the young woman's grandmother. She went hunting with an uncle, who had himself been a focus of the young woman's accusations.

Finally some good news arrived.

With criminal appeals' ace Diarmuid White arguing the case, Oliver's conviction was reversed. He was free after 20 months behind bars and scheduled for a retrial. And who showed up for the post-reversal press conference, lending their support? Marinza's news friends, the accuser's grandmother and aunt.

"I would like to think I was helpful in all of this," Marinza said.

The first hint of trouble between her and Oliver, she said, was after she told him she wouldn't be able to sit with him through the second trial, which was set to start Nov. 1. "There was a limit to how much time I could take off from work," she said. "He didn't like that at all."

It was, she said, like he began casting for someone new to play the "girlfriend" role.

"I'm not looking for credit," she said. "But he just dumped me. No explanation. No thank you. Just goodbye. It was like, 'Your work is done here. I don't need you anymore.' I've started thinking he was using me all along."

Was there another woman?

"The only other woman I know is his mother," Marinza said.

A close friend asked her, she said, whether she now doubts her strenuous confidence in Oliver's innocence?

She shook her head.

"Based on my interaction with him," she said, "based on the medical reports, I still think the woman was lying. But I don't know."

"Maybe he did keep her tied up in his apartment. It's possible. My personal opinion is that, whatever happened, he just made her feel awful, like she wasn't worth anything. It was Oliver, being Jekyll-and-Hyde. I'm sure he was all sensitive and intelligent and gentle."

"Then, at some point he just turned ugly. He stopped caring how she felt. Probably, things just went too far between them, and he scared her past any reasonable point."

"I think I know what I'm talking about."

Copyright (c) 2001, Newsday, Inc.

--------------------

This article originally appeared at: http://www.newsday.com/news/columnists/ny-nyhen182469451nov18.column

Visit Newsday online at http://www.newsday.com

Here are links:




Contact address - please send e-mail to the following address: Sloan@ishipress.com