My "Wife" in Thailand

Moy, a Girl in Bangna, Thailand, which is near Bangkok, and her cousin, Ay, or Suwanee.
In 1987, I got married to a Thai girl in Bang Na. We had an actual marriage ceremony with six Buddhist monks plus a big wedding party. However, I have no proof of this because the film was not properly loaded in the camera.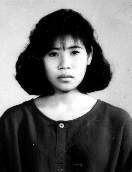 Moy, my "wife" in Thailand. This was intended to be her passport photo.
---

After the marriage ceremony and our wedding night, her adoptive family asked me to give them $4,000 (four thousand dollars) in return for which they would allow her to obtain a passport so that she could leave the country. In Thailand, the head of the household controls whether a person can get a passport or not. She had no father or mother.

I was surprised at this request. I had assumed that if I was going to be asked to pay money, the request would come before and not after I had married her.

I did not have $4000 on me at the time. When the family found this out, they lost interest in this marriage. I only slept with my "wife" one time, which was on our wedding night. Her family claimed that she was a virgin, but I was not sure. The next day, they were asking me whether she had been a virgin or not.

A few years later, I came back to Thailand. By then, she was a dancer in the King's Corner Bar on Patpong Road. Her number was 66. I picked her number took her to my hotel room and had sex with her for 500 baht. No mention was made of our "marriage" two years before.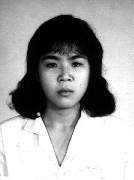 Suwanee, also known as Aa, the cousin of Moy, arranged my marriage to Moy
---

I have to give her credit for one thing. That second time I had sex with her, she gave me probably the best lay I had ever had in my life. I think she went with me only because she wanted to ask me if I had ever had sex with her cousin. I gave her the true answer. (Yes, I did).

I have no hard feelings about this girl, although she did cost me about one month of my time and about one thousand dollars. She was young and beautiful. A man can only dream of getting a girl like this once in a lifetime. This was not a realistic dream.

Nevertheless, I have ever since advised everyone I know: DO NOT GET INVOLVED WITH THAI WOMEN. Go to the Philippines, Indonesia, Korea, Taiwan, Japan, Poland or almost every place else in the world, but do not go to Thailand looking for a woman unless you just want a one night relationship.

I have posted a photo of my Thai "wife." Her name was Moy, but in the bar where she later worked she was known as "Aa". Her actual name is Pimporn. The real name of her cousin is Suwanee. Suwanee worked as the cashier in a Japanese restaurant a few blocks from Patpong Road. I took Suwanee with me on a trip to Singapore. The pictures I have posted were intended to be their passport photos. I still have their home address in Bang Na.

Sam Sloan
---
Here are Problems with Having an Asian Wife.
---
Here are links:


My Home Page

Contact address - please send e-mail to the following address: Sloan@ishipress.com