Group holding my wife, Honzagool, refuses to hand over Osama bin Laden
Since 1983, my wife, Honzagool, has been held by a religious-political group in Pakistan called the Jamaat-e-Islami.

The Jamaat-e-Islami is closely allied with the Taliban, which controls most of Afghanistan.

The Taliban has been harboring Osama bin Laden and has enabled him to set up a military training camp in Afghanistan.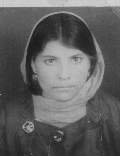 Honzagool


Government of Pakistan has called upon the Jamaat-e-Islami, the same group which is holding my wife, to hand over Osama bin Laden.

The New York Times reports that the Jamaat-e-Islami has refused. The Times report says:

"We told the government that we're very sorry but we can't do that and we don't have that kind of influence over the Taliban," said Amir-ul Azeem, a spokesman for Pakistan's best-organized religious party, Jamaat-e-Islami, or Party of Islam."

In the coming days, you will often see the Jamaat-e-Islami quoted. This is because it is well known that they have control or at least influence over the Taliban.

I do not believe that they intend to return my wife and more than they intend to hand over Osama bin Laden.

These facts are well known. Everybody knows that the Jamaat-e-Islami in Pakistan is the equivalent of the Taliban in Afghanistan. If you do not believe me, ask any Afghan or Pakistani.

Two brothers, Raja Abdul Rashid and Raja Ehsan Aziz, are holding my wife Honzagool in Rawalpindi/Islamabad, Pakistan. They are political activists in the Jamaat-e-Islami. There are able to do this because a cousin of my wife, Aziz-ur-Rehman, is a also member of Jamaat-e-Islami.

Raja Ehsan Aziz had his own press agency, called the Afghan Press Agency, located on Siddiqi Chawk in Rawalpindi, Pakistan. He was a graduate student of Political Science at Columbia University in New York City. He was able to get his fingers into this case because Columbia University sent him to the Bronx Supreme Court as an official translator in 1982 when the Honzagool Case was pending in that court. This gave him a seemingly official position in this case.

Raja Ehsan Aziz made firey speeches in the student mosque on the campus of Columbia University attacking me. In August, 1982, I sent Honzagool to see her family in Chitral, Pakistan. In September, 1983 I went to Pakistan to recover her and bring her back to America. I was on the verge of success, when Raja Ehsan Aziz started attacking me daily thought his press agency and the newspapers of Pakistan. More than one hundred newspaper articles were published about this case. In October, 1983 he was able to get my wife brought from Chitral to Islamabad where she has since remained.

As to whether I have told President Bush about this, it is important to remember that President Bush Senior was vice-president or president when all this happened. He did not do anything about this then, and probably will not do anything now.

The fact is that the Falwell Group in Lynchburg, Virginia and the Jamaat-e-Islami in Pakistan have been working for identical purposes since 1982, because the Jamaat-e-Islami has wanted my wife whereas the Falwell Group has wanted my daughter both for their own fanatical religious purposes.

It is also important to remember that during the years in question, the Jamaat-e-Islami turned from a pro-American Group to an anti-American Group. In 1980 when I married Honzagool, the Jamaat-e-Islami was pro-American. That is how I was able to marry her. However, by 1983, the Jamaat-e-Islami had become vehemently anti-American, and that is why I have never been able to get her back.

I have been talking and writing about this for the past 18 years. Nobody ever listened to me before. Will anybody listen now?

Ismail Sloan
---
For more about this, see:
For a photo of Najibullah, President of Afghanistan, hanging, see: Najibullah Hangs in Kabul
---
Contact address - please send e-mail to the following address:
Sloan@ishipress.com