Gunmen Kill Relative of Slain Afghan President Najibullah
2 November 1998

PESHAWAR, Pakistan (AP) -- The brother-in-law of Afghanistan's slain president Najibullah was shot and killed Monday outside his home in northwest Pakistan.

Mohammed Hashim Bakhtiari was returning to his home in a posh suburb of Peshawar when assailants opened fire with automatic rifles, police said.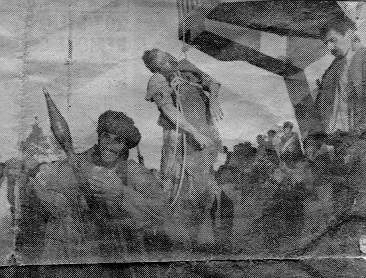 Photo of Najibullah, President of Afghanistan, hanging in Kabul on September 27, 1996
---

No one took responsibility for the killing.

Peshawar is surrounded by Afghan refugee camps, where more than 1 million displaced Afghans still live. Many among the refugees profess allegiance to Afghanistan's hard-line Taliban army, who reviled Najibullah as a communist.

Invading Taliban soldiers dragged Najibullah from his refuge in a United Nations compound in the heart of the beleaguered Afghan capital Kabul in September 1996. Throughout the night they tortured Najibullah and his brother, then they hanged their bloated bodies outside the presidential palace for two days.

The Taliban profess a strict Islamic belief that bans women from working, bars girls from school and forces men to wear beards.

Najibullah was appointed president in 1985 and oversaw the withdrawal of invading Soviet soldiers from Afghanistan in 1989. He continued to rule until 1992 when he agreed to step down. But before he could leave Kabul, Muslim insurgents overran the city and refused to allow him to leave.

For four years the United Nations gave Najibullah refuge in a compound while Muslim insurgents, once backed by the United States, turned their weapons on each other, destroyed vast tracts of the capital and killed 50,000 people.

The Taliban threw out President Burhanuddin Rabbani and his military chief Ahmed Shah Massood in September 1996 and imposed their brand of Islamic law.

Bakhtiari, who was married to Najibullah's sister, had held memorials to his slain brother-in-law in Peshawar and had condemned the Taliban for his killing.

Police were investigating the shooting of Bakhtiari.
---
Here are links: How I escaped from jail in Afghanistan.

For a photo of an Afghan Jail, see: The Central Jail in Kabul .

For another view of the same jail, see: Leaving the Central Jail in Kabul .

For the History of the War in Afghanistan, see: A Brief History of the War In Afghanistan.

For a photo of one of my fellow prisoners from an Afghan jail, see: Syed Durali Shah Naqwi .

Here is: Islamic rebels take Afghan capital - Taliban militia proclaims strict Muslim state, executes ex-leader

Here are links:

Contact address - please send e-mail to the following address: Sloan@ishipress.com