Here is a photo of Najibullah, President of Afghanistan, hanging in Kabul on September 27, 1996
Najibullah was a man who deserved to die a much more horrific death than he actually got.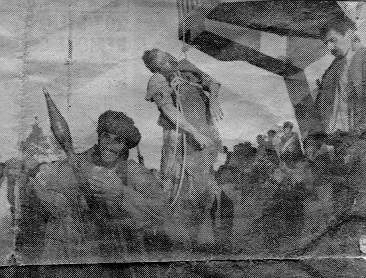 His brother, Shalpur Ahmadzi, is hanging next to him.

I am not sure about this, but I believe that I met Najibullah. His face in other photos seems familiar. I believe that he came by to review the prisoners when I was in Jalalabad Prison in Afghanistan in August, 1978.

Najibullah was a member of Khad, the Afghan Secret Police, at that time, so he very possibly might have come to Jalalabad Mahbas.

Another famous person I think I knew was Sadeq Qotbzadeh, who became Foreign Minister of Iran. I believe that on several occasions Gobsadeh came to my apartment at 2119 Carleton Street in Berkeley during the Fall, 1963 - Spring, 1964 school year. At that time my roommate was Ahmed Shayegan, whose father was a leading dissident and a former minister of Iran.

That was before I became Haji Mohammad Ismail Sloan.
---
Here are links: How I escaped from jail in Afghanistan.

For a photo of an Afghan Jail, see: The Central Jail in Kabul .

For another view of the same jail, see: Leaving the Central Jail in Kabul .

For the History of the War in Afghanistan, see: A Brief History of the War In Afghanistan.

For a photo of one of my fellow prisoners from an Afghan jail, see: Syed Durali Shah Naqwi .

Here is: Islamic rebels take Afghan capital - Taliban militia proclaims strict Muslim state, executes ex-leader

Here are links:

Contact address - please send e-mail to the following address: Sloan@ishipress.com