FIDE Executive Director Emmanuel Omuku
Emmanuel Omuku is the popular Executive Director of FIDE. Omuku played first board for Nigeria in many World Chess Olympiads starting in Dubai 1986, holding a FIDE rating of around 2300. In 1990, Omuku replaced the outspoken and controversial Dr. Ebigwei as the political representative of the Nigerian Chess Federation to FIDE. Shortly thereafter, Omuku was elected to the FIDE Presidential Board.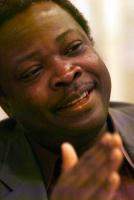 FIDE Executive Director Emmanuel Omuku
---

In 1996, after our fearless leader, Kirsan Ilyumzhinov, became president of FIDE, Omuku was drafted by Kirsan to replace Toti Abundo, who became the ratings secretary, in July 1997.

Omuku is 41 years old and celebrated his birthday on August 29, the same day that the World Chess Championship was concluded.

Immediately after Alexander Khalifman defeated Vladimir Akopian for the World Chess Championship in Las Vegas in August, 1999, Omuku granted an extensive interview to Sam Sloan, which I will publish as soon as I get around to typing it.
---
Here are links:

Sam Sloan's Chess Page


Contact address - please send e-mail to the following address: Sloan@ishipress.com