NWFP orders evacuation of foreigners from Chitral
CHITRAL, Aug 21: An estimated 200 foreign nationals currently staying in Chitral were being traced by the authorities for their shifting to safer places in the NWFP in the aftermath of the US attack on Afghanistan and Sudan.

The district authorities in Chitral directed the police to trace the foreign nationals.

The action follows a directive by the NWFP Home Department on Friday which asked Chitral district administration to immediately evacuate an estimated 200 foreign nationals from the district.

Orders were also issued to PIA authorities to lift these foreign nationals on priority basis. So far the police has been able to trace 39 foreign nationals who are scheduled to be flown to Peshawar on Saturday and then to some unspecified destinations.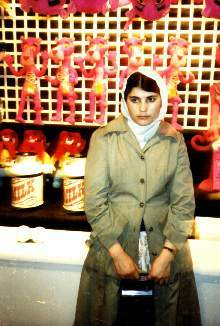 Honzagol - Will She Be Evacuated from Chitral?
---

The police and other district authorities were trying to trace the remaining foreigners but their efforts bore no fruit till last reports were collected in the late afternoon.

EVACUATION: According to reports confirmed by the authorities evacuation of 167 foreign nationals from Peshawar, the provincial capital, took place on Friday. All of them were taken to Islamabad by road.

Those evacuated include Americans, British, French, Swiss, Dutch and Nigerians. Most of them had been working with different agencies and NGOs including the UNHCR, with their headquarters located near refugee populated localities of the capital. Their evacuation was necessitated because of law and order situation in the wake of US attack on Khost and nearby populated areas in Afghanistan on Thursday night.

Several people were killed in the American attack which also included about half a dozen Pakistanis whose bodies were transferred to Pakistan on Friday.

Evacuation was ordered after protest demonstrations both by Pakistanis and Afghan nationals living in the city and its suburbs as well as in other parts of NWFP.

CONSULATE: Meanwhile, the US consulate in Peshawar remains in a state of siege with commandos deployed to protect it from any untoward incident. Located on the Hospital Road in Peshawar Cantonment, the roads on three sides of the consulate have been blocked and no vehicular traffic is being allowed since Thursday morning. Not even motorcycles are allowed to use these roads. Heavy contingents of police and Frontier Constabulary are guarding the consulate building which is only 2 kilometers from Tehkal Payan, Tehkal Bala, University Town which have heavy concentration of Afghan refugees. The concentration of refugees is even heavier on the same road a little further at Kacha Garhi and Nasir Bagh refugee camps, Hayatabad township, Danishabad and other localities in the vicinity.

The total refugee population in Peshawar and its suburbs is estimated to be half a million of whom 4,92,000 reside in the camps, University Town, Hayatabad, and other suburbs outside the walled city. The walled city has an estimated refugee population of 8,000. The total refugee population in and around Peshawar forms about 40 per cent of the total population of the provincial capital which has been estimated at 13,00,000 including around 5,00,000 Afghan refugees.

Here are links:

Contact address - please send e-mail to the following address: Sloan@ishipress.com