Sloan Brothers
Here is a picture of the three Sloan brothers: Edward, Harold and Leroy. Leroy was my father.

Edward was born on June 20, 1904, Harold was born on June 14, 1906 and my father, Leroy, was born on May 2, 1910.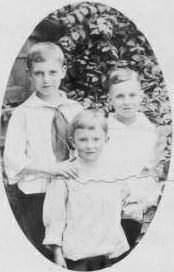 Sloan Brothers


There was later on a split in the family. Edward disappeared in 1944. Recently through an Internet search I found that he had died in 1978. My father and his brother Harold never spoke to each other for many years before they died.

I do not get along well with my own brother, either.

I have a little theory which is unlikely but worth checking. My son Peter Sloan often tells the story that his great-great grandfather was John Sloan, the famous artist. Peter just made this up, based on the fact that he is an artist and he and the famous John Sloan create a similar type of art.

I got a book about John Sloan and found out that he and my great grandfather were born exactly two years apart in a small town in Pennsylvania. John Sloan was born in 1871 and my great grandfather was born in 1873. Most importantly, they look exactly alike, so much alike that you can hardly tell one from the other.

So my theory is that my great grandfather Howard Creighton Sloan, in accordance with the great family tradition of brothers breaking with each other, broke with his brother John Sloan and never told anybody that he had a brother who was the most famous cartoonist in America.
---
Here are links:


Contact address - please send e-mail to the following address: Sloan@ishipress.com