Opposition to motion by Creighton Sloan to dismiss appeal
THE STATE OF SOUTH CAROLINA
In the Court of Common Pleas

__________________________

APPEAL FROM AIKEN COUNTY
Probate Court
Donald B. Hocker, Special Probate Judge for Aiken County

___________________________

Case No. 2002ES02-00489

___________________________

Creighton W. Sloan .............................................. Respondent

VS.

Samuel H. Sloan ................................................................. Appellant

AFFIDAVIT IN OPPOSITION TO MOTION TO DISMISS APPEAL

___________________________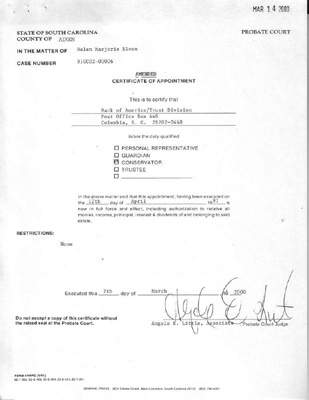 This document, signed by Judge Little, shows that the Bank of America has been the conservator since April 12, 1991. Click to enlarge.


Samuel H. Sloan, being duly sworn, deposes and says:

1. This case comes before this court as an appeal from the Probate Court. However, I believe that this court should and eventually must exercise original jurisdiction over this case, because of the unusual nature and complexity of this case. It is apparent to me that the decision of Judge Hocker appealed from is a dead letter. It will never be implemented. Judge Hocker either did not pay close attention or more likely did not believe the facts presented to him in the hearing below. I told opposing counsel Catherine Kennedy the first time I spoke to her after I received the decision that this decision will never be implemented. I know my brother better than anybody else and I have good reason for my belief.

2. The litigation between my mother and my brother went on for 16 years from 1986 until her death in 2002. In that entire time, and in the two years of sparring between them before the litigation started, Creighton always grabbed and took whatever money of my mother that he could get his hands on. He never gave anything back. Not one dime was ever recovered. He also never voluntarily sent her any money, although he had obtained a freeze on her assets in 1986. In addition, he has never accounted for any of the funds he took from her. It can be documented that he started stealing her pension and social security checks in 1984 after she cut him off after supporting him through three masters degrees. Creighton got his last masters degree in 1984 and after that she told him that he would have to get a job and she would not support him any more. He retaliated by trying to get Duke University Hospital to declare her incompetent, which it did not do.

3. In 1984, her pension and social security checks totaled about $3500 per month. By the time she died, they had increased to $5000 per month. She was a retired medical doctor who had worked for the Commonwealth of Virginia, which explains her high checks.

4. After filing the initial case in 1986, when the Virginia court froze her bank accounts even though she was in the United Arab Emirates at the time and the court obviously had no jurisdiction over her, she filed two counter suits against Creighton. One, filed in the Circuit Court for the City of Charlottesville, Virginia is still pending. This suit demands an accounting of her funds that he has taken. He has never provided an accounting.

5. For this reason, it was naive for Judge Hocker to assume that Creighton would comply with his order of the court. The court order states that Creighton must either secure a bond for $275,000 or he must turn over his mother's funds to his lawyer. He has not yet done either and I am certain that Creighton will never do either. Creighton testified that he has been bonded in the past. He never said when or where. However, in none of the cases between himself and his mother has Creighton ever been bonded. I imagine that a bonding company would require him to offer his house as security for the bond. That is the house at 102 Indian Creek Trail which Creighton bought with money he stole from his mother. It is unlikely that Creighton would be willing to post his house as a bond.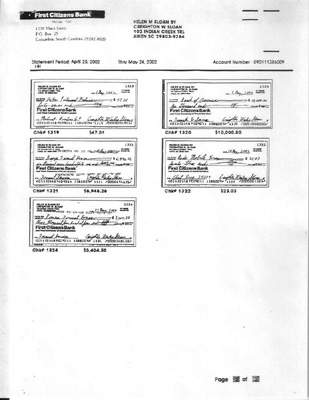 First Citizens Bank statement shows that Creighton wrote $20,000 worth of checks on his mother's account in May, 2002. Click to enlarge.


6. Similarly, knowing Creighton, he will never turn the funds over to his lawyer. Creighton never turns over his funds to anybody. I doubt that he even can turn over the funds. He has probably removed them to a place where I could not find them if I am appointed personal representative. It can be established that there is at least $200,000 which Creighton has not accounted for. In other words, my mother's remaining assets were not $275,000 but were at least $475,000. This is because my mother had $200,000 in Sovran Bank in Lynchburg. Creighton got a court order freezing those funds and then later by falsely claiming that he was the conservator whereas the Bank of America was really the conservator, Creighton removed the $200,000. Nobody knows what he did with the money. He refuses to account for it. Indeed, it has been demonstrated that since 1984, Creighton has stolen more than one million dollars from his mother, if everything is added up, plus interest.

7. Creighton testified in the court below that Sun Trust was the successor to Sovran Bank. This was just one of many lies in his testimony. In actuality, Bank of America is the successor to Sovran Bank. Thus, the frozen bank account should now be with Bank of America in Lynchburg. Creighton also testified that the court in Lynchburg had ordered the transfer of the funds from Sovran Bank to Sun Trust. That was not true either. There have been no court orders in those Lynchburg cases since 1990. The $200,000 was still in Sovran Bank in late 1994 when Massie Ware, then an officer of Sovran Bank, testified about this in another one of the cases Creighton brought against his mother in 1994. Creighton had no right to remove funds from the Sovran bank account, both because it was frozen by court order which he obtained and because the Bank of America had been the conservator since April, 1991.

8. Attached hereto as Exhibit A is a motion for judgment Creighton filed in a new lawsuit against his mother in 1992. In this motion, Creighton states that he is the conservator appointed by the South Carolina courts. However, this was a lie. The Bank of America was the conservator, not Creighton. Attached as Exhibit B is a certification by the Aiken County Probate Court that the Bank of America has been the conservator since April 12, 1991. Thus, Creighton lied to the Virginia court that he was the conservator. Through this lie, Creighton was able to sell his mother's house in 1993 and dispose of all her property in a trash dump in 1994. He kept the money. Among the documents that Creighton put into the trash dump were the meticulous financial records my mother maintained proving that Creighton was stealing her money. In addition, all the documents pertaining to our late father's estate went into the same trash dump. Judge Hocker ruled that this was irrelevant because it happened a long time ago.

9. Judge Hocker ruled over my strenuous objections that I could not testify as to the circumstances of my father's death. Those circumstances were that just before he died my father was "married" in the Emergency Room of the Lynchburg General Hospital while suffering a brain seizure and attached to life support equipment. The woman who married him had a history of marrying elderly and infirm men. Her lawyer was Michael Gamble, who promptly filed suit for the widow's share of my father's estate. Michael Gamble was thereafter appointed as a judge and he assigned to himself all of the Sloan litigation, even though he was the lawyer in two of the cases. It was this same Judge Gamble, attorney for Alma Sloan, who was involved in the sale of the house. These lawsuits are still pending which is the reason why my father's case cannot be wound up, plus apparently Creighton took the blue book in which all of the accounts of the estate were recorded. Yet, Judge Hocker, without allowing me to testify as to these matters, cited the fact that my father's estate is still pending and I am the administrator as a reason for not appointing me as my mother's personal representative. In short, Judge Hocker made a ruling on an issue without allowing testimony on that issue.

10. Opposing counsel contends that the time to appeal an order of the probate court is ten days after receipt of the order. I do not know when I received the order and it does not appear that there is any record of this. Judge Hocker also appears perhaps to be in violation of a rule cited by opposing counsel which states: "(f) A judge of a probate court must not be admitted as having any voice in hearing or determining an appeal." Already, it appears that Judge Hocker is trying to knock out my appeal, by writing his letter dated January 8, 2004. It seems that Judge Hocker has not transmitted a return to the appellate court, as required by the rules. During the hearings before Judge Hocker I asked several times what was the procedure for filing an appeal. He told me that he would not give legal advice and I should look it up in a law book. I did in fact go to the officers of the Aiken County Probate Court in the day after the last hearing before Judge Hocker and they told me that I had 30 days to appeal. I went upstairs and spoke to the clerk of the Court of Common Pleas and she also told me thirty days. Therefore, I waited exactly 30 days. My notice of appeal arrived on exactly the 30th day. The reason I did this was that I was hoping that my brother would comply with the court order and proceed forward as to get this case over. I called opposing counsel several times during this 30 day period and she told me that Creighton had been unable to do anything because he had not been able to take off time from work. This confirmed my prediction that Creighton would not comply with the order of the court. I was shocked when I saw on the Internet a picture of Creighton attending a party in Las Vegas Nevada December 20, 2003.

11. Another question is whether the order of Judge Hocker is even in effect. The order states that first one of two things must happen before he becomes the personal representative. Either Creighton must secure a bond or Creighton must turn over the money to his lawyer. Creighton has done neither. It could even be argued that the time to appeal has not started until one of these events has occurred. Since neither will never happen, it may be that we are stuck in an endless quagmire. This is exactly what Creighton wants, because CREIGHTON ALREADY HAS THE MONEY. It came out in the hearings in the probate court through my cross examination that since 1994 Creighton has established two new bank accounts, one at SunTrust in Lynchburg and the other at First Citizens Bank in Columbia. He took my mother's pension and social security checks which he was stealing and deposited the checks into those accounts. Thus, Creighton was able to operate bank accounts in his mother's name. Attached hereto as Exhibit C and D are pages from the bank statements of Sun Trust and First Citizens Bank. This shows that Creighton continues to operate these bank accounts even after her death. This was a violation of court orders, as the Bank of America has been the conservator since 1991. I have recently contacted those banks and to this day Creighton has never supplied them with a death certificate. As far as the banks are concerned, my mother is still alive and Creighton can still write checks on those accounts. I cannot understand why Creighton has not been arrested and is not now in jail now for grand larceny.

12. The hearings in the court below were lengthy. I have obtained tapes of the hearings and I would like to have time to transcribe them so as to establish a records for this appeal. A transcript will show easily that Creighton lied throughout his testimony. He changed his story on innumerable occasions. I cannot understand how Judge Hocker could so completely ignore this. Creighton also testified that the order appointing Bank of America as the conservator does not apply to Virginia. Creighton testified that he is the conservator in Virginia, but this is another lie. Also, the files of the Aiken County Probate Court contain numerous documents which Creighton Sloan signed as the conservator. His lawyer tried to get around this by claiming that the courts had run out of forms to be filed as the guardian and so, because of the shortage of paper, Creighton had signed a form for the conservator whereas he was really the guardian.

13. Another issue before this court concerns the fact that Judge Hocker allowed my lawyer, Patricia Harrison, to withdraw as counsel. I do not believe that under the circumstances of this case, she should not have been allowed to withdraw. I am sympathetic with the plight of Patricia Harrison. I hired her to represent me in an uncontested case scheduled to be heard on November 20, 2002. Creighton had filed nothing and did not appear to be opposed. It seemed like it was going to be a five minute job. Then, inexplicably, the judge's secretary called and said that the hearing would have to be postponed because the judge's friend had died and she had to attend the funeral. However, rather than postpone the case for a few hours or a day, the judge said that a new 20-day notice would have to go out. Later, the judge said that she would not conduct a hearing until Creighton filed a competing petition which he had until January 30 to file. Creighton filed a petition on January 23, but without proof of service. Now, the judge said that she would not schedule a hearing until Creighton served the papers on me. Months passed and Creighton did nothing. I was finally served on August 15, 2003, the same day as the Great New York Blackout. By that time, this judge and two more judges had disqualified themselves, which is how the case came to be before Judge Hocker.

15. Patricia Harrison had signed on to do an uncontested case which was expected to last five minutes, and now she was in a hotly contested case for more than a year and the underlying case in Virginia had gone on for 17 years. I can understand why she wanted out. However, none of these delays were my fault. Nobody could have anticipated this courts of events. Therefore, I believe that Patricia Harrison should be reinstated as my lawyer. It is apparent from his decision that Judge Hocker ruled in favor of Creighton because he has a lawyer and I did not.

16. Opposing counsel contends that this appeal should be dismissed because I was a few days late filing my grounds for appeal. However, opposing counsel was MORE THAN ONE YEAR LATE in joining this case. My mother died on May 16, 2002. Opposing counsel did not serve her petition opposing my appointment as personal representative until August 15, 2003, more than one year later. Creighton was long in default and should not have been allowed to contest the case at this late stage.

17. Before Judge Hocker, I moved that the will be admitted to probate. This motion was not opposed. However, inexplicably, Judge Hocker ruled that this was not before the court. This is a serious matter, because Creighton has made it clear that he wants to contest the will. His own attorney has obviously informed him that a will contest will be frivolous and will only delay proceedings. I assume that Creighton's lawyer wants this case to be concluded quickly because that is when she will get paid. However, since Creighton already has more than half of the money, a delay will not hurt him. Creighton has contacted several of my children and has told them that he will see to it that I never get a dime. He has told them that they will get the money instead of me if they side with him in this case. This caused two of my children to file petitions contesting the will. One of them is staying with me now and he says that Creighton misinformed him and he wants to drop the will contest, which has been deemed abandoned anyway. Nevertheless, as long as the possibility is held that Creighton will start a will contest, there can be no security in these proceedings.

18. Another bizarre ruling by Judge Hocker was that he refused to consider the 1991 guardianship proceedings in the Probate Court. In fact, he stated that he was not even going to look at those files. This case was hotly contested on 1991. The record of that case contains more than 500 pages of documents. Unfortunately, the tapes of that case have been lost or destroyed. The tapes would show among other things that after being kidnapped in Bangkok Thailand on September 3, 1990, my mother was brought not to South Carolina but to Maryland. Only after my mother tried to escape from confinement repeatedly in Maryland, she was brought to South Carolina two months later. Cassel Jacobson testified that in Maryland elderly persons cannot be held behind a "closed door" against their will but in South Carolina there is no such aw. My mother had never previously lived in South Carolina and was brought here because South Carolina does not have laws the protesting the elderly that Maryland has. The tapes would show this.

19. In summary, the time for appeal has not expired. The appeal should go forward. Patricia Harrison should be reinstated as my lawyer. Also, as Creighton was in default and did not join this case until August 2003, one full year after I filed my petition, he should not be allowed to reopen and contest this case. On that ground alone, I must be appointed a the personal representative as an uncontested matter. Creighton is disqualified from being the personal representative of his mother because he has three court cases pending against his mother in Virginia. He is automatically disqualified by conflict of interest. Also, Creighton has repeatedly violated the court orders which he obtained. He continues to steal his mothers check's, checks which are supposed to go to the conservator. He belongs in jail, and should not be an officer of the court.

20. I have been searching for these tapes of the 1991 proceedings in the Probate Court. Unfortunately, I am informed by the clerk's office of the Aiken County Probate Court that they cannot find the tapes. The clerk's office says they were probably written over or destroyed. I cannot understand why such vitally important tapes would be destroyed. The clerk for Judge Peeples who heard these tapes on appeal says that he does not have them either.

WHEREFORE, for all of the reasons set forth above:

1. The motion to dismiss this appeal must be denied.

2. This court should take original jurisdiction over this case, which is beyond the competence of the probate court.

3. Additional time should be granted to enable the appellant to prepare transcripts of the proceedings below.

4. The decision of the court below should be reversed.

__________________________

Samuel H. Sloan

Sworn to before me this 31st
Day of January 2004

______________________________
NOTARY PUBLIC

Respectfully Submitted,

Samuel H. Sloan
920 Belmont Avenue
Brooklyn NY 11208

(718) 277-6957
1-347-351-9352
samsloan@samsloan.com

January 31, 2004

Copy to:

Catherine H. Kennedy
Attorney for Creighton Sloan
Nelson, Mullins, Riley & Scarborough, LLP
1330 Lady Street
PO Box 11070
Columbia, South Carolina 29201

Creighton W. Sloan
102 Indian Creek Trail
Aiken, South Carolina 29803

Patricia L. Harrison
611 Holly Street
Columbia, South Carolina 29205

Samuel H. Sloan, being duly sworn, deposes and says that on January 31, 2004 he mailed the within grounds for appeal to all counsel at the following addresses:

Catherine H. Kennedy
Attorney for Creighton Sloan
Nelson, Mullins, Riley & Scarborough, LLP
1330 Lady Street
PO Box 11070
Columbia, South Carolina 29201

Creighton W. Sloan
102 Indian Creek Trail
Aiken, South Carolina 29803

Patricia L. Harrison
611 Holly Street
Columbia, South Carolina 29205

__________________________
Samuel H. Sloan

Sworn to before me this 31st
Day of January 2004

______________________________
NOTARY PUBLIC
---
What do you think about this? Express your opinion about the Kidnapping of Dr. Marjorie Sloan
---
Here are links:
---
My Home Page
Contact address - please send e-mail to the following address:
Sloan@ishipress.com