Jamaat-e-Islami demands ouster of Pakistan Prime Minister Nawaz Sharif
By The Associated Press

ISLAMABAD, Pakistan (AP) -- Opposition parties demanded today that Prime Minister Nawaz Sharif be investigated after a British newspaper accused him of evading taxes and siphoning millions of public dollars into personal bank accounts.

The Observer newspaper quoted a report by the Pakistani Federal Investigation Agency that said the Sharif family was involved in tax evasion, loan defaults and had "phantom" bank accounts. It did not say what these accounts were.

Sharif's assets include four apartments in London's exclusive Mayfair district, worth more than $5 million, and accounts and companies controlled by the prime ministers' family are worth more than $70 million, The Observer reported Sunday.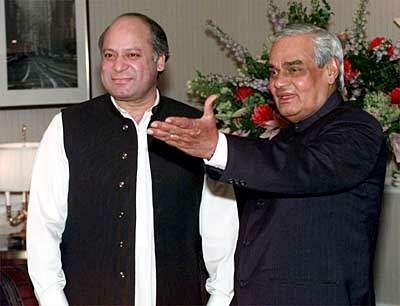 Pakistan's Prime Minister Nawaz Sharif, left, and India's Prime Minister Atal Bihari Vajpayee, at the beginning of their meeting in New York, Wednesday
---

The report galvanized the opposition.

"Sharif is corrupt and should be thrown out of power," Munawar Hasan, general secretary of the opposition party Jamaat-e-Islami told The Associated Press.

"After this report the prime minister should resign, otherwise people will throw him out and take back every penny he plundered," he said.

The 200-page report was given to The Observer by FIA's former second-in-command, Rehman Malik.

Malik was arrested soon after Sharif returned to power, a move that came as apparent reprisal for his investigations of graft charges against Sharif during his first term. Malik was later released and fled to London in June after an assassination attempt.

In Islamabad, a government spokesman dismissed the allegations as "wild, incorrect and malicious," while Sharif's son, Hasan Nawaz, said the report was baseless. There was no immediate comment from Sharif.

Meanwhile, Naseerullah Babar, former interior minister during former Prime Minister Benazir Bhutto's government, told The Associated Press the report came as no surprise.

"Whatever has come in The Observer is just the tip of the iceberg," he said. "We had almost completed investigations against him, but then our government was sacked,'' Babar said.

"There is extensive proof that Sharif siphoned off millions of dollars from the country to buy property abroad,'' he added.

He claimed Sharif had used his influence to suppress corruption cases in court against him.

Bhutto, who is also accused of graft and abuse of power, has demanded that an opposition senator be appointed to probe these allegations.

The Observer report comes as a blow to a Sharif government, which is facing an economic breakdown and growing opposition over a proposed constitutional amendment that would introduce strict Islamic laws.

Sharif, scion of a rich business family, first became prime minister in 1990. But his government was dismissed halfway through his five-year term in 1993 on charges of corruption.

The Sharif family's wealth is built around steel, paper, sugar and textile mills and his business empire rose astronomically during 1980s and 1990s when he was in power.
---
NOTE: Nawaz Sharif was a big businessman and one of the richest men in Pakistan even before he was first elected to public office. Therefore, even if he does have $5 million in properties in England, it would be almost impossible to prove that this was obtained by illegal means.

Also, there are no taxes in Pakistan, and therefore nothing to evade.
---
Here are links:

To write a letter to Nawaz Sharif, please send e-mail to the following address: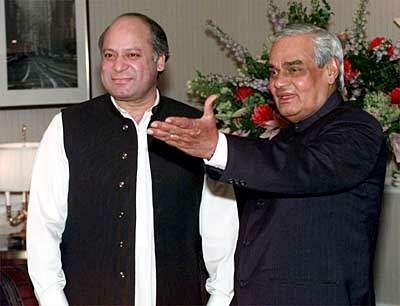 primeminister@pak.gov.pk
Contact address - please send e-mail to the following address:
Sloan@ishipress.com