Pakistan not involved in attack, says Afghan envoy
ISLAMABAD (NNI)-Pakistan is not involved in the United States attack on Afghanistan, said Afghan ambassador Maulvi Saeedur Rahman Haqqani on Sunday.

"We have no information that Pakistan was aware of the attack. And we have no misgivings about Pakistan's role in the American air strikes," Haqqani told NNI.

"Launching attack on a sovereign country without evidence is a sheer violation of international and even American laws.

The Americans made murderous attempt on the life a person, against whom they have no evidence," he said. They have committed a blunder and crime by launching attack on an independent and sovereign country, he insisted.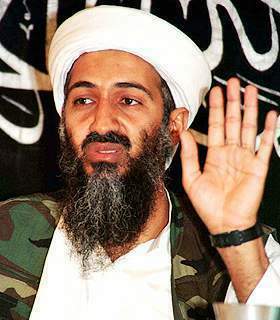 Osama bin Laden
---

The Afghan envoy condemned the silence of United Nations and international human rights organizations over the American attack on Afghanistan and Sudan. "We are surprised over the silence of UN Security Council and international human rights organizations. We are also human being and are justified to protest over the silence of the world bodies over the biggest terrorist action".

He urged the world community to raise voice against the US action as these countries can also be the victims of such attacks in future.

Haqqani rejected reports about killing of non-Pukhtoons in northern Afghanistan after Taliban victories there. "The reports are part of propaganda against Taliban. We respect and protect people belonging to all ethnic groups. There was no injustice with any person in Mazar-e-Sharif and other areas in northern parts of the country.

The Taliban supreme leader, he recalled, had already announced general amnesty to the people. He said 2000 supporters of Harkat-e-Islami (Mohsini group), led by commander Syed Israrullah, surrendered to Taliban forces in Charkun district in Balkh province with 6 tanks, 8 artilleries and one multi-barrel launcher on Saturday. "It reflects that other ethnic groups are unhappy with the policies of opposition groups and are joining Taliban".

Asked about the concern of Iran and Central Asian states over Taliban recent victories in northern Afghanistan, the ambassador said, "I want to make it clear that all neighbouring countries should not be worried. We have no intention to attack other countries or export our ideas".

To a question about Osama Bin Laden, Maulvi Rahman said Osama has been living in Afghanistan since Jehad days. "He is our guest. We are obliged to protect him under the Islamic and Afghan traditions. No questions arises to hand him over to any other country."

The Taliban government, he said, condemns terrorism. "But we Afghans had been victims of terrorism first by the Russians and now by the Americans."

To a question about narcotics, he said the Taliban administration has taken various steps to curb drug abuse. But the western world, he said, is not recognizing these efforts.

Asked about Iran's planned military exercises near Afghan border, the envoy said Iran will be holding exercise 25 kilometers inside its territory adding there is no threat to Afghanistan by these exercises. "Our frontiers are safe and we can deal with any threat," he said.

The Afghan Islamic Emirate, he said, has no intention to indulge in war with Iran or other neighbouring country but wants relations with Iran and Central Asian states on equal footings. "Amirul Momineen has repeatedly stated that no neighbour should be concerned about Taliban policies," he recalled.

To a question about the missing Iranian diplomats, he insisted that there is no Iranian diplomat in Taliban custody saying Taliban troops found no person in Iranian consulate in Mazar-e-Sharif when they captured the northern town.

He advised Iranian government to send a high level delegation of its foreign ministry for talks with the Afghan foreign ministry to settle the issue of the arrest of other Iranian nationals, who are in Taliban detention.

Asked if there are prospects of improvement in ties between Taliban and Iran, he said, "We want good ties with Iran. But Iran should stop leveling accusations against the Islamic Emirate". Tension between Iran and Taliban could be reduced if Iran admits realities on ground and proves its impartiality in the Afghan conflict, he added.

Replying to a question about the UN refusal to accord recognition to Taliban, he said, "The UN seat is the political and legal right of Taliban government as they control 90 per cent of the Afghan territory and enjoy support of the people". He hoped that the OIC would grant the vacant seat to the Taliban government without further delay.

He said the United States fired 70 Cruise missiles on Khost and only two exploded. Most of the people killed when one of the missiles hit a mosque. He said the other missile hit a kitchen. Governor of Khost Syed Abdullah Agha and officials of Afghan Interior Ministry visited the missile-hit area after the attack.
---
Here are links:

Contact address - please send e-mail to the following address: Sloan@ishipress.com