Wanted Poster for Charles Roberts, Wanted for Kidnapping
This wanted poster was created in Abu Dhabi, United Arab Emirates.

The information on the poster is correct. The picture was one which Charles Roberts had mailed to Shamema while she was living with her father in the United Arab Emirates. However, there was a mistake in the telephone number.

The correct number for Interpol Abu Dhabi at that time when calling from America was 011-9712-441666. However, the poster says 011-9712-447666.

The number has since changed, as have all telephone numbers in Abu Dhabi. The new number is 011-9712-4414991 and the general police number is 011-9712-4414666.

Also, Ibrahim al Menam no longer works in Interpol Abu Dhabi. Now, the men there are Abdul Wahad and Hassan.

The original of this report is posted in GIF format on the Internet at http://www.anusha.com/poster.htm

The wanted poster says:

WANTED FOR KIDNAPPING

AND
SUSPECTED CHILD MOLESTATION

CHARLES ROBERTS, age 58

LAST KNOWN ADDRESS: 420 AMELON ROAD, MADISON HEIGHTS, VIRGINIA
24572 (near Lynchburg)

WARNING: THIS MAN IS ARMED AND EXTREMELY DANGEROUS. HE IS A
FUGITIVE FROM JUSTICE. THERE IS AN INTERNATIONAL WARRANT
OUTSTANDING FOR HIS ARREST. HE HAS ALREADY BEEN SENTENCED TO LIFE
IMPRISONMENT IN THE UNITED ARAB EMIRATES FOR RELIGIOUS KIDNAPPING.

On October 7, 1990, CHARLES ROBERTS abducted a Muslim child who at that time was
8 years old in Abu Dhabi, United Arab Emirates, for the purpose of changing her
religion from Islam to Christianity. ROBERTS is a member of a fanatical Evangelical
Baptist organization headquartered at the Temple Baptist Church in Madison Heights,
Virginia.

Anyone with information about this man or about Shamema, the child whom he
abducted, should please contact Ibrahim Menam, Director of Interpol,
P.O. Box 398, Abu Dhabi, United Arab Emirates, tel. 011-9712-447666.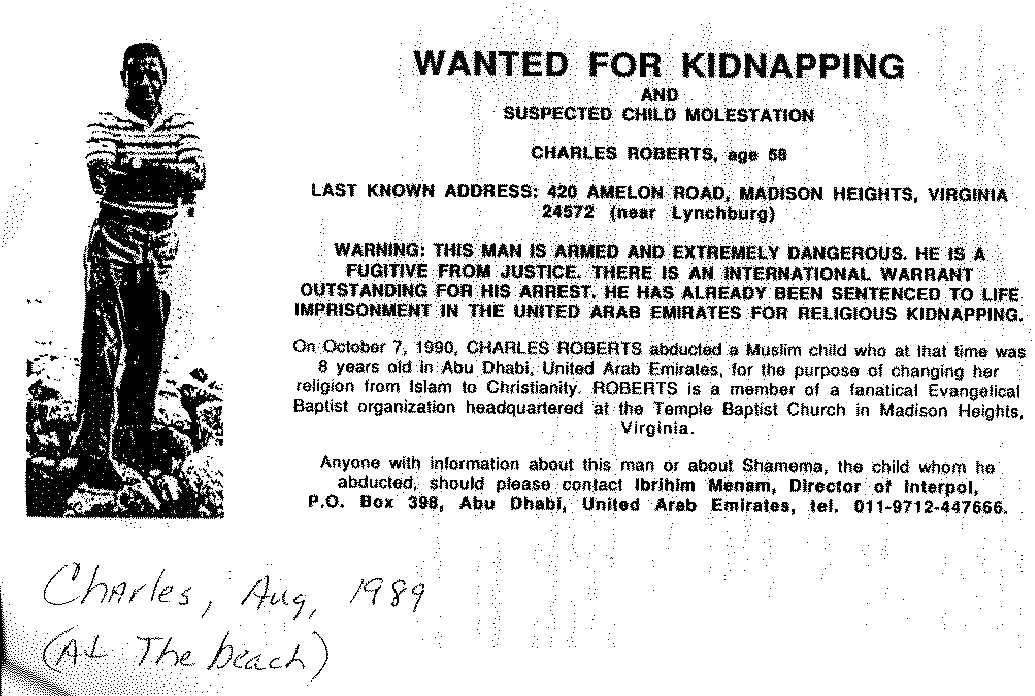 Wanted Poster for Charles Roberts, Wanted for Kidnapping
---
Here are links:

My Home Page

Contact address - please send e-mail to the following address: Sloan@ishipress.com