The Many Faces of Saddam Hussein
We have all seen Saddam Hussein on TV. His smiling visage seems to stand out in stark contrast to the more than one million people that he has killed, some of whom were personally shot by Saddam Hussein himself. Saddam Hussein has even killed his own grandchildren.

But now, German scientists have established that the Saddam Hussein we see on TV is not the real Saddam Hussein. Saddam Hussein has at least three doubles.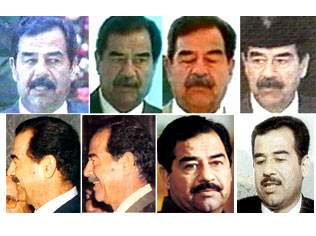 Are these all the same man, or all different? Is one of these men Saddam Hussein and, if so, which one?


This has been established by examining small details such as the size of his ears, for example. This discovery was first reported in the German ZDF Public Television Network.

ZDF said it was difficult to tell which were the doubles and which was the real Saddam Hussein. Minor details such as the size of the ears, hands and shape of the shoulders gave the lookalikes away, ZDF said. "They have apparently undergone surgery to appear to look like the statesman," ZDF said. "The doubles have mastered Saddam's gestures and perfectly mimic Saddam, with only tiny details separating them from the real Saddam Hussein."

One tip-off is that when a double appears, there is a blank wall behind him. There is never a picture of the real Saddam Hussein in the background behind the double.




When Baby Bush decides to kill Saddam Hussein, he better make sure to kill the right one.
---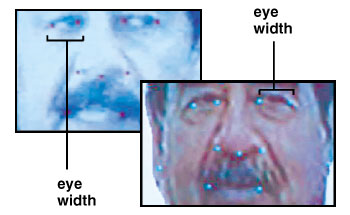 Note the difference in the Eyes of Saddam Hussein


Here is one example. On the left in this photo is the Real Saddam Hussein. On the right is the fake. There is a small difference in the width of the eye.
---
UPDATE: More Saddam Husseins appeared on Iraqi TV on Ocrober 14, 2002 on the eve of the "election" to affirm the power of Saddam Hussein. One seems almost certain to be the real Saddam, because it shows him meeting with the President of Algeria. Are they all the same person?

Has anybody noticed that in every recent photo of Saddam Hussein, he is sitting down in a chair. Is there something wrong with him? Is he no longer able to walk?



---
Note: The New York Times is copying Sam Sloan! I thought of the title, "The Many Faces of Saddam Hussein", named after a go playing program called "The Many Faces of Go". A few days later, The New York Times published an article under the same headline.
---
---
NEW POLL: How will the situation with Iraq End?
---
UPDATE:
Saddam Hussein has been captured! What should we do with him?
---
Here are links:

My Home Page

Contact address - please send e-mail to the following address: Sloan@ishipress.com