My daughter worked with the first US Marine killed in Iraq
When the news came that four US Marines were killed in Iraq, I was concerned because my daughter is in the US Marines and has been deployed in Kuwait preparing for the invasion of Iraq.

I do not like the policy of informing the family members first before notifying the news media of the names of the persons killed. That means that people like myself have to wait and worry for three days before hearing the news.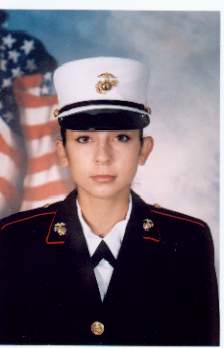 PFC S H Sloan
a/k/a Shamema Honzagool Sloan


Fortunately, I did not get a knock on the door in the last three days and today the news came that one of my daughter's co-workers was killed in Iraq.

Maj. Jay Thomas Aubin, 36, of Waterville, Maine worked in the same place and had the same job as my daughter, but was of higher rank. I suppose that he may have been one of her supervisors. I do not remember whether or not I met him when I visited Shamema at the Yuma Air Base in 2001.

CNN News reports at Maj. Jay Thomas Aubin was assigned to the Marine Aviation Weapons and Tactics Squadron-1, 3rd Marine Aircraft Wing, Marine Corps Air Station in Yuma, Arizona.

My daughter Shamema had the same job and worked in the same place in Yuma, Arizona.

Shamema is a certified Aircraft Armament Technician. She was sent to Kuwait on Thursday February 11, 2003 at 9:39 AM. She has not posted anything to her website or on the Internet since then.

Maj. Jay Thomas Aubin, 36, of Waterville, Maine


Shamema's mother is Honzagool of Pakistan. Shamema was kidnapped from me in Abu Dhabi by fanatical Christian fundamentalists in 1990 when she was eight years old and taken to Virginia. Shamema escaped from her kidnappers by joining the US Marines in 2000.

Sam Sloan

http://www.shamema.com/usmarine.htm
---
Express your opinion in my Guestbook
Shamema is now in VMA-214, the Blacksheep Squadron.
---
UPDATE: My daughter is stationed at Al Jaber Air Base in Kuwait.

Shamema is now a corporal. Shamema said that she is one of the people who stands on the flight line and when the planes that do come back from bombing come back she disarms the weapons. So she is one of the first to know if they dropped bombs. see she arms and dearms all kinds of stuff including harriers but the harriars do not do any of the super dangerous stuff you know. She also disarms and arms F-18's F-16's and A- 10's"
---
Here are links:

My Home Page

Contact address - please send e-mail to the following address: Sloan@ishipress.com