My daughter, Shamema Honzagool, is now an "Aircraft Armament Technician"
This means, in layman terms, that she loads bombs onto airplanes. Shamema graduated from school in the US Marines today, January 30, 2001.

Shamema is working with the AV-8B Harrier aircraft. She says that she did not have anything to do with the Osprey crash. She works on a totally different plane.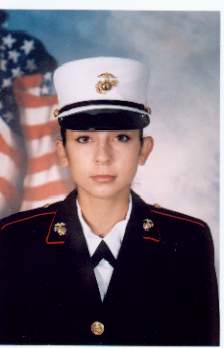 PFC S H Sloan
a/k/a Shamema Honzagool Sloan


Shamema is my daughter who was kidnapped when she was eight years old from our home in Fujairah, United Arab Emirates on October 7, 1990, by members of a Christian Fundamentalist Group affiliated with Jerry Falwell.

I never got her back. She was held by the Falwell group for ten years. She graduated from Jerry Falwell School last year and immediately joined the US Marines, thereby bringing about her escape from the clutches of the Falwell organization.

Now that Shamema is a certified Aircraft Armament Technician, she will be transferred to the West Coast, where she will be far away from the Falwell people. She will eventually go to sea. She may have the opportunity for international travel, so that she can see her mother who lives in Pakistan and whom she has not seen since she was nine months old.

On her mother's side, Shamema is a member of the Royal Family of Chitral Pakistan. Her great-great-great-great grandfather was the King of Chitral.

Ismail Sloan
---
Here are links:

My Home Page

Contact address - please send e-mail to the following address: Sloan@ishipress.com