June 7 Article in Courier Life about Sam Sloan for Congress
By Erik Engquist
As printed in the Courier Life Newspapers
June 7, 2004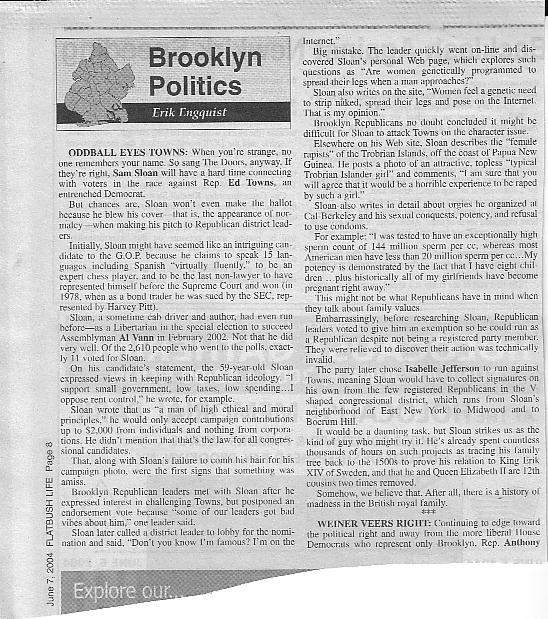 June 7 Article in Courier Life about Sam Sloan for Congress


ODDBALL EYES TOWNS When you're strange, no one remembers your name. So sang The Doors, anyway. If they're right, Sam Sloan will have a hard time connecting with voters in the race against Rep. Ed Towns, an entrenched Democrat. But chances are, Sloan won't even make the ballot because he blew his cover-that is, the appearance of normalcy-when making his pitch to Republican district leaders.

Initially, Sloan might have seemed like an intriguing candidate to the G.O.P. because he claims to speak 15 languages including Spanish "virtually fluently," to be an expert chess player, and to be the last non-lawyer to have represented himself before the Supreme Court and won (in 1978, when as a bond trader he was sued by the SEC, represented by Harvey Pitt).

Sloan, a sometime cab driver and author, had even run before-as a Libertarian in the special election to succeed Assemblyman Al Vann in February 2002. Not that he did very well. Of the 2,610 people who went to the polls, exactly 11 voted for Sloan. On his candidate's statement, the 59-year-old Sloan expressed views in keeping with Republican ideology. "I support small government, low taxes, low spendingE oppose rent control," he wrote, for example. Sloan wrote that as "a man of high ethical and moral principles," he would only accept campaign contributions up to $2,000 from individuals and nothing from corporations. He didn't mention that that's the law for all congressional candidates.

That, along with Sloan's failure to comb his hair for his campaign photo, were the first signs that something was amiss. Brooklyn Republican leaders met with Sloan after he expressed interest in challenging Towns, but postponed an endorsement vote because "some of our leaders got bad vibes about him," one leader said.

Sloan later called a district leader to lobby for the nomination and said, "Don't you know I'm famous? I'm on the Internet." Big mistake. The leader quickly went on-line and discovered Sloan's personal Web page, which explores such questions as "Are women genetically programmed to spread their legs when a man approaches?" Sloan also writes on the site, "Women feel a genetic need to strip naked, spread their legs and pose on the Internet. That is my opinion."

Brooklyn Republicans no doubt concluded it might be difficult for Sloan to attack Towns on the character issue. Elsewhere on his Web site, Sloan describes the "female rapists" of the Trobrian Islands, off the coast of Papua New Guinea. He posts a photo of an attractive, topless "typical Trobrian Islander girl" and comments, "I am sure that you will agree that it would be a horrible experience to be raped by such a girl."

Sloan also writes in detail about orgies he organized at Cal-Berkeley and his sexual conquests, potency, and refusal to use condoms. For example: "I was tested to have an exceptionally high sperm count of 144 million sperm per cc, whereas most American men have less than 20 million sperm per ccEy potency is demonstrated by the fact that I have eight children Elus historically all of my girlfriends have become pregnant right away." This might not be what Republicans have in mind when they talk about family values.

Embarrassingly, before researching Sloan, Republican leaders voted to give him an exemption so he could run as a Republican despite not being a registered party member. They were relieved to discover their action was technically invalid. The party later chose Isabelle Jefferson to run against Towns, meaning Sloan would have to collect signatures on his own from the few registered Republicans in the V-shaped congressional district, which runs from Sloan's neighborhood of East New York to Midwood and to Boerum Hill.

It would be a daunting task, but Sloan strikes us as the kind of guy who might try it. He's already spent countless thousands of hours on such projects as tracing his family tree back to the 1500s to prove his relation to King Erik XIV of Sweden, and that he and Queen Elizabeth II are 12th cousins two times removed. Somehow, we believe that. After all, there is a history of madness in the British royal family.
---
What is your opinion of this? Express Your Opinion in the Guestbook.
---
I have filed three petitions for a Writ of Certiorari in the US Supreme Court. All of the petitions I have filed seek to be reinstated on the ballot as a candidate for US Congress for the Tenth Congressional District of New York.

Here are the petitions I have filed in the United States Supreme Court, in HTML Format:
---
Here is what I have filed thus far:
---
Here are other candidates for election:

My Home Page

Contact address - please send e-mail to the following address: samsloan@samsloan.com