The Grishkin Controversy
I have received so much mail about this I have decided to make a guestbook out of it.
---
UPDATE: Grishkin is back online!: You cannot keep an alcoholic away from drink, you cannot keep a drug addict away from his opium, and Grishkin cannot stop herself from putting up her own web sites. (She explains that she has been away in California, but is back in Hong Kong now.)
---
In October 29, 1999, coincidentally while I was being interviewed by a reporter from the New York Press in my home, I received an e-mail from a young woman who called herself "Grishkin".

Her letter said: "Perhaps you might dedicate a small section of your website to me, in the hope that one of your many visitors might fall in love with me. I am a highly attractive young woman.

"Yours,
"Grishkin"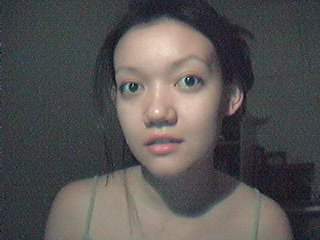 Grishkin


In a subsequent letter, she added: "Do I have your word that you will remove me from your site if I don't like the publicity?"

In the next letter, she said: "I spend my time making webpages which eventually have to be deleted because of the demented fanbase they accumulate."

As it turned out, she liked the publicity I gave her so much she set up her own web site where she posted the letters she had received from those who had fallen in love with her from viewing the pictures of her on my web site.

She even put a video cam in her bedroom and broadcast pictures of herself 24 hours per day.

About two months later, she decided to take down her website and wrote me telling me that I should take mine down too. I refused on the ground that I had said that I would take it down if she did not like the publicity, and she obviously had liked the publicity. Nobody had forced her to put a live video camera in her own bedroom and to blast her pictures all over the Internet.

She later on put up another website with pictures of herself but took that one down too. I do not know if she has a website up now, as I have not been keeping track of her.

Meanwhile, she has become so popular that she is still consistently one of my ten most popular web pages.

I have received a lot of e-mail about this, criticizing me for not taking her pictures down. Therefore I have created a guestbook, for readers to express their opinions about this.
---
What do you think of this? Express your opinion in the guestbook!
---
Here are links:

My Home Page

Contact address - please send e-mail to the following address: Sloan@ishipress.com