June 14 Article in Courier Life newspapers about Sam Sloan for Congress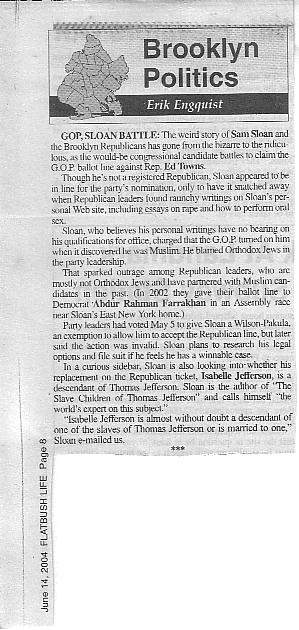 June 14 Article in Courier Life about Sam Sloan for Congress


GOP, SLOAN BATTLE The weird story of Sam Sloan and the Brooklyn Republicans has gone from the bizarre to the ridiculous, as the would-be congressional candidate battles for the G.O.P. ballot line against Rep. Ed Towns. Though he's not a registered Republican, Sloan appeared to be in line for the party's nomination, only to have it snatched away when Republican leaders found raunchy writings on Sloan's personal Web site, including essays on rape and how to perform oral sex. Sloan, who believes his personal writings have no bearing on his qualifications for office, charged that the G.O.P. turned on him when it discovered he was Muslim. He blamed Orthodox Jews in the party leadership.

That sparked outrage among Republican leaders, who are mostly not Orthodox Jews and have partnered with Muslim candidates in the past. (In 2002 they gave their ballot line to Democrat Abdur Rahman Farrakhan in an Assembly race near Sloan's East New York home.) Party leaders had voted May 5 to give Sloan a Wilson-Pakula, an exemption to allow him to accept the Republican line, but later said the action was invalid. Sloan plans to research his legal options and file suit if he feels he has a winnable case. In a curious sidebar, Sloan is also looking into whether his replacement on the Republican ticket, Isabelle Jefferson, is a descendant of Thomas Jefferson. Sloan is the author of "The Slave Children of Thomas Jefferson" and calls himself "the world's expert on this subject." "Isabelle Jefferson is almost without doubt a descendant of one of the slaves of Thomas Jefferson or is married to one," Sloan e-mailed us.
---
What is your opinion of this? Express Your Opinion in the Guestbook.
---
I have filed three petitions for a Writ of Certiorari in the US Supreme Court. All of the petitions I have filed seek to be reinstated on the ballot as a candidate for US Congress for the Tenth Congressional District of New York.

Here are the petitions I have filed in the United States Supreme Court, in HTML Format:
---
Here is what I have filed thus far:
---
Here are other candidates for election:

My Home Page

Contact address - please send e-mail to the following address: samsloan@samsloan.com