Mike Goodall's complaint about the OMOV vote
The following is a complaint posted by Mike Goodall about the delegate election.

Mike's main points are:

1. He was not asked whether he would attend the delegate's meeting. Mike has in fact attended nearly every meeting since 1968, more than anybody else with the possible exception of Jerry Hanken, so it is obvious what the answer would be.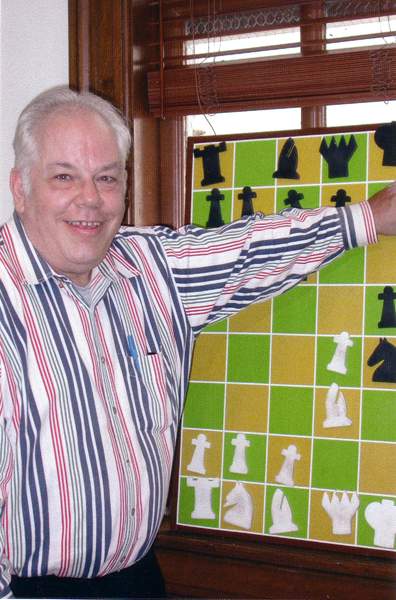 Mike Goodall listens in rapt attention at the 1999 USCF Delegate's meeting in Reno


2. Mike was not given an opportunity to have an asterisk placed beside his name.

3. Only officers of CalChess had asterisks put beside their names. Thus, the officers of CalChess insured that they would be elected and that nobody else would be elected, because there were six officers of Cal Chess and exactly six delegate slots available.

4. Because of this, even though Mike Goodall received more votes than any of the officers of CalChess and even though they rarely go to the national meetings and he always goes to the meetings, they were elected as delegates and he was not.

5. Because of this, Mike will not be allowed to put items on the advance agenda for the USCF meeting. (The rules about this were changed in 2001 in Framingham by Doris Barry to stop me, Sam Sloan, from putting items on the advance agenda.) The right to put an item on the advance agenda is important. For example, it was Mike's anti-drug testing ADM which was passed in 2001 which we are now all complaining that it has not been enforced. Mike put about 10 ADMs on the 2001 agenda, of which his anti-drug testing ADM turned out to be the most important. Now, Mike will not be allowed to put items on the advance agenda, whereas people who will not be attending the meeting will be allowed to put advance items on the agenda.

Sam Sloan

At 06:17 PM 10/8/2002 -0700, Mike Goodall wrote:

In Northern California the six asterisks were given to the six officers of Calchess. No one asked me if I was going to the US Open, though it could have been guessed. I didn't get an explanation for the asterisks until after the election. Although I didn't get an asterisk I approve of them. At least workers for chess were favored, rather than a totally random popularity contest. The only reason I was upset at not being a delegate is the fact that, according to Doris Berry, only delegates may submit ADMs. Now, if I want to submit an ADM, I have to get a delegate to sponsor it. I'm pretty sure I'll be a delegate next year because it's unlikely all six Calchess officers will be in LA, and Shaughnessy won't be there. Of course one of the main reasons for the low turnout was the absence of peel-off labels on the relevant issue of CL. People had to cut up their magazine in order to vote.

Best Regards, Mike
---
Here are links:

Sam Sloan's Chess Page


Contact address - please send e-mail to the following address: Sloan@ishipress.com