Russia and China win World Chess Olympiad
ISTANBUL, November 12: ISTANBUL, November 12:

Going into the last round, the final standings were a foregone conclusion. Among women, it was virtually guaranteed that China would win. China was leading by 2 1/2 points and, in a three game match, only needed one point out of three to clench first place.

The Chinese strained in games lasting as long as seven moves before agreeing to a draw in all three games. Hungary had no choice. The alternative was to play out all three games and get crushed on all boards. They took as good a deal as they were going to get. The Chinese girls were just too strong.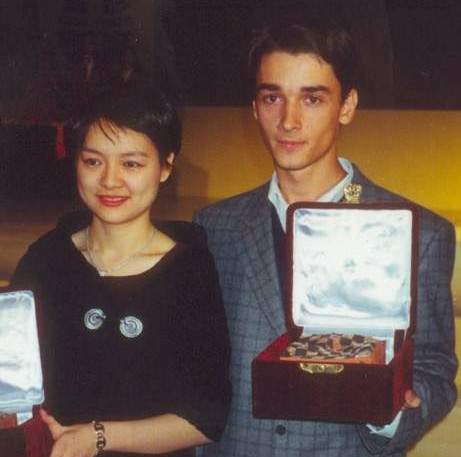 True Love: Zhu Chen and Alexander Morozevich won the prizes for best performance rating for women and men
---

By this time, all the top teams had played each other, so the only remaining rival, Georgia, was paired far down against Cuba. The Georgians crushed the Cubans, winning 3-0, but they were already so far behind China and so far ahead of the rest of the field that it made no difference.

It was a bit closer on the men's side. Russia and Germany were far ahead of the rest of the field. However, there were some nervous moments, as funny things sometimes happen in the last round of Olympiads. Few could forget that last round of the 1986 World Chess Olympiad in Dubai, when America entered the last round with a full point lead, but Russia facing Poland, the country which according to President Ford will never be dominated by the Soviet Union, won by 4-0, whereas the USA could only beat Bulgaria by 2 1/2 to 1 1/2, so the USA finished third behind both the Soviet Union and England.

Now that the former East Bloc Countries have got their freedom, all the last-round matches were legitimate. There were no surprising 4-0 last round sweeps and their no significant changes in the standings. It was noteworthy, however, that at the General Assembly meetings the previous day, Margaret Muresan, the delegate from Romania, had risen to say that the rumor was not true that Romania had sold out and been paid to lose an earlier match to Russia 4-0. What was remarkable about this was that nobody seemed to have heard that rumor. Everybody assumed that the Romanians had lost to the Russian 4-0 because the Russians had played better.

Judit Polgar, age 24, entered the last round with a fantastic score of 10 1/2 - 2 1/2 against an almost entirely grandmaster field. Had she not played her last round game, she would have easily won the gold medal for best result on board three plus the best performance rating for the entire event. Players in that position traditionally sit out the last round. Instead, she played but could only draw against Pavasovic of Slovakia, so she finished out of the medal awards in both categories. Her main rivals, including Morozevich, sat out the last round.

One noteworthy thing about this Olympiad was the number of new and very strong young players. The winning teams, Russia and Ukraine, had 17-year-old players: Alexander Grischuk and Ruslan Ponomariov. Ruslan Ponomariov of Ukraine was born on 11 October 1983 and won the gold medal for best result on board two with a performance rating of 2785. Grischuk, who was born on 31 October 1983 and thus turned 17 on the day that round three was played, won a medal for second reserve. Alexander Morozevich, age 23, won the gold medal for best performance rating in the entire event with a performance rating of 2804.

Russia won with 38 points out of 56, followed by Germany with 37, Hungary and Ukraine with 35.5, Israel with 34.5, Georgia with 34, England, Slovenia, China, India, Macedonia, Switzerland and Uzbekistan with 33, Bulgaria, Poland and France with 32.5, Bosnia, Yugoslavia, Armenia, Cuba, Greece, Denmark, Spain, Philippines, Estonia 32, Romania, USA, Slovakia, Belarus, Scotland, Lithuania and Canada 31.5, Netherlands, Latvia, Moldova, Australia, Vietnam with 31.

Women's Standings: China won with 32, followed by Georgia with 31, Russia with 28.5, Ukraine with 27, Yugoslavia with 26, Netherlands with 25.5, Hungary, Germany and England with 25, Armenia and Romania with 24.5, Moldova, India, Poland and USA 24, Bulgaria, Cuba and Latvia with 23.5, Kazakhstan and Israel with 23, Azerbaijan, Czech Republic, Vietnam, Belarus, Spain, Greece, Australia, Slovakia and Estonia with 22.5.
---
I am now in Istanbul, where the World Chess Olympiad is taking place. I am issuing daily press reports on the developments in the Olympiad. Here are my daily press reports so far:
---
Here are links:

Sam Sloan's Chess Page


Contact address - please send e-mail to the following address: Sloan@ishipress.com