Istanbul World Chess Olympiad, day two: Georgian Women's Team upset by India
Istanbul, October 29: In a fantastic upset, the Georgian woman's team was held to a draw by the Indian Woman's team today, as the Indian first board, S. Vijayalakshmi, defeated former World Championship Challenger Nana Ioseliani and S. Dhar-Barua drew N. Gurieli on board three. Nino Khurtizde of Georgia defeated S. Meenakshi of India on board two.

The Georgian women have long dominated women's chess, winning the World Chess Olympiad in 1992, 1994 and 1996 and before that the woman's teams for the USSR consisted almost entirely of Georgian women.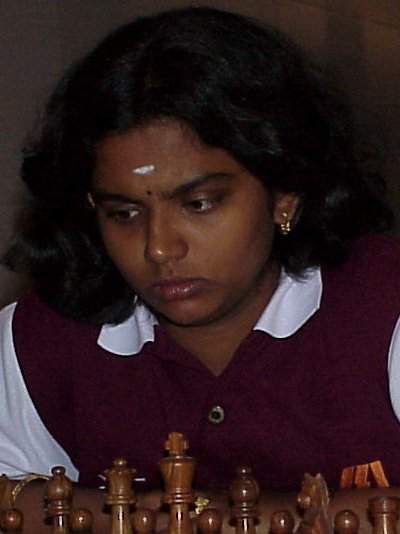 S. Vijayalakshmi, who defeated Nana Ioseliani


The other big upset of the second round involved the Georgian men, who were held to a draw by Canada, as Igor Zugic of Canada defeated Georgi Kacheishvili of Georgia on board three.

In the previous round, Georgia won by 4-0 against a special team of the International Blind Chess Association. The Georgian first board, Z. Azmaiparashvili, got into a rook and bishop against rook endgame, which is a known book draw, but the blind player, S. Krylov, failed to see the correct defense and lost.

A team to watch has been the Myanmar team from Burma, because shortly after Myanmar joined the World Chess Federation only a few years ago, almost all of their previously unknown top players established ratings of over 2600, which put them in the world class, but by only playing games against each other.

This caused a crisis in the World Chess Rating List and a number of decisions were made which had the effect of reducing their ratings by over one hundred points.

Today, Myanmar was paired against Hungary, which gave them the chance to prove that their 2600+ ratings had been correct. However, they failed to prove it. Three of their players were defeated without much difficulty, with Judit Polgar again winning quickly. However, on board three, Htun of Myanmar had a big advantage and probably had a winning position against Portisch. Portisch was struggling for a draw but, near the end, Htun weakened, failed to play a clear drawing line, fell into a simple knight fork and lost.

More scandals: Turkey has only one grandmaster, Suat Atalik. I spoke to him today to ask why he is not playing. It turns out that due to long standing problems with the Turkish Chess Federation, including an incident in 1993 where he was punished for playing Tilberg when they wanted him to play elsewhere, Atalik has decided not to be a Turk any more and to join Bosnia (his great-grandparents came from Bosnia). However, the Turks will not agree to allow him to switch federations and Bosnia has not issued a passport for him yet, so he is not able to play for either country in this Olympiad.

The USA team did poorly in round one, and was paired against Chile in round two. The USA won by 3 1/2 - 1/2, as Seirawan defeated Jorge Egger on board one and Boris Gulko drew Luis Valenzuela on board two.

Sam Sloan
---
I am now in Istanbul, where the World Chess Olympiad is taking place. I am issuing daily press reports on the developments in the Olympiad. Here are my daily press reports so far:
---
Here are links:

Sam Sloan's Chess Page


Contact address - please send e-mail to the following address: Sloan@ishipress.com