Still Even More Women Testify about Presidential Blowjobs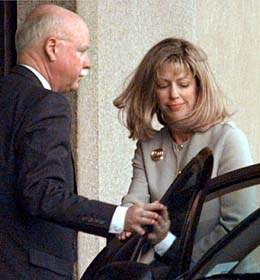 Nancy Hernreich
Testifying again about Presidential Blowjobs
---
One thing almost everyone has noticed is how similar these presidential blowjob givers look like each other and look like Hillary.

Nancy Hernreich, the chief of Oval Office operations, testified before a grand jury Thursday.

Marsha Scott, chief of staff in the White House personnel office, spent Thursday morning testifying before a grand jury.

Prosecutors brought the two mid-level White House aides before a federal grand jury Thursday, apparently in an effort to learn more about Monica Lewinsky's job history at the White House and her visits with President Clinton.

Marsha Scott, chief of staff in the White House personnel office, spent the morning before the grand jury, her second appearance at the federal courthouse here in a week.

She was followed by Nancy Hernreich, chief of Oval Office operations, who sits just outside the president's office and oversees his daily schedule. Ms. Hernreich too had previously appeared before the grand jury.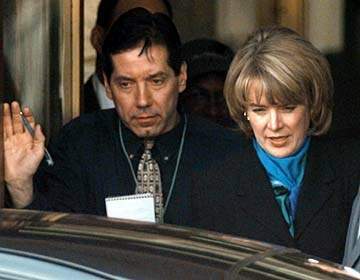 Marsha Scott
Newly Implicated in giving blowjobs to the President
---
Both women declined to comment about their testimony, given behind closed doors in accordance with grand jury secrecy.
Independent counsel Kenneth Starr is trying to compile a list of Lewinsky's visits with the president and to establish whether she and Clinton were alone together in the Oval Office and, if so, how often, according to witnesses who have been before the grand jury.
Starr is also taking testimony from officials who can describe Lewinsky's duties at the White House and explain why she was transferred to a low-level job at the Pentagon in April 1996.
The independent counsel is investigating accusations that Clinton had a sexual relationship with Lewinsky and then instructed her and others to deny it in sworn statements made for Paula Jones' lawsuit against him. Clinton has adamantly denied the accusations.
Among the evidence newly sought by Starr are records from Mrs. Jones' lawyers regarding four women whom they have tried to link to Clinton.
Donovan Campbell, Mrs. Jones' chief lawyer, said Thursday that he had received a subpoena from the independent counsel demanding depositions and other records he had from the four women. The Jones legal team has tried to establish a pattern of Clinton's engaging in extramarital relations with numerous women and then using job offers or other inducements to win their silence.
Campbell said Starr was seeking information about Dolly Kyle Browning, Beth Coulson, Marilyn Jo Jenkins and Juanita Broaddrick. In his deposition in the Jones suit, Clinton denied having had sex with any of the first three women; no mention of Ms. Broaddrick appears in any of the sections of the president's deposition that have been made public.
White House officials and Clinton's private lawyers have complained that Starr and Mrs. Jones' team appear to be cooperating in an investigation of the president's private life.
---
UPDATE: Here is: Affidavit of Juanita Broaddrick denying non-consensual sex with President Clinton .

Top News Story: Elizabeth Ward Gracen Finally Admits It: Yes, I did. I had sex with the President. "He's a very charming, handsome man".

Here is a link: Juanita Broaddrick: Raped by Clinton in 1978, according to Jones lawyers

Here are the court papers which allege that Broaddrick "[name withheld]" was raped by Clinton in 1978 Full text of response by Paula Jones in Jones vs. Clinton case .

This is It! You won't believe this. The President gave this up for the motley crew of dopey broads he has now. Here she is: Dolly Kyle Browning: How I Got Laid by The President.

She's Ready to Give a Blow Job to the President.

Here is: Monica Lewinsky looks at Larry King's Dick while More Women Testify about Presidential Blowjobs. Also, Monica S. Lewinsky has a new Hair Style.

Here is a link: Blond Bimbos Blast Bill
---
Here are links:


Contact address - please send e-mail to the following address: Sloan@ishipress.com