Was Jim Eade Drunk in Istanbul?
During the last few days, Jim Eade has taken to making all kinds of abusive and factually untrue statements about people. There is nothing new about this. He has been doing it for a long time.

What makes it different now is that he has been attacking people for their performance during meetings of the FIDE General Assembly in Istanbul. In other words, he has been attacking foreigners.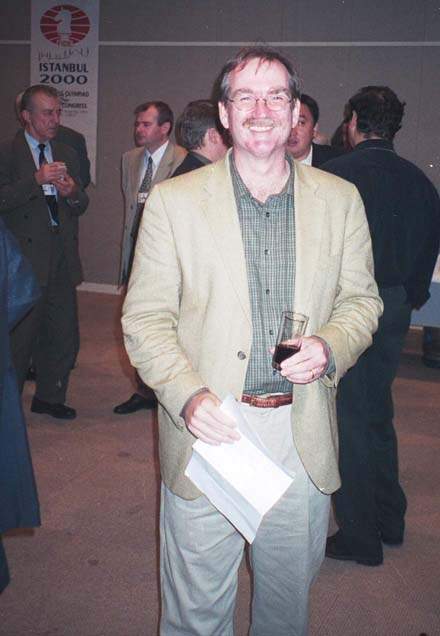 Was Jim Eade drunk when this photo was taken?
Standing directly behind Eade to the right is the delegate from Mongolia


Somehow, it seems OK for Eade to be attacking his fellow Americans. We are used to it and can judge for ourselves. However, for Eade to attack the representative of a foreign country seems out of bounds.

For example, Eade has said that the World Championship Committee, the WCC, failed to prepare for the FIDE meetings and did not do a good job. As far as I know, there are no Americans on the World Championship Committee. I know that Willie Iclicki is the Chairman and Stewart Reuben is one of the members. Reuben is from England. I do not know where Iclicki is from. Iclicki is one of those people who likes to change countries all the time.

Eade has also made some very stupid statements about the Continental Championships which are to take place in the new World Chess Championship cycle. Eade has been stating on the Internet that the new system will be just as good for Americans as the old. Apparently, Eade must think that only the USA and Canada are members of our continent. Eade should know better, because his title is Zone President.

I have the minutes if the Continental Meeting - America. The minutes show that Eade was present. The following countries were represented at the meeting: CAN USA MEX GUA ESA HON NIC CRC COL VEN SUR BRA PAR ARG CHI PER ECU BOL BAR TRI JAM CUB BER.

Note that the countries are first listed in North-South order, not in alphabetical order. There were 23 counties present at the meeting. Therefore, Eade should know that representatives of all these countries will be contesting any Continental Championship for America.

I was not going to say this. I was going to keep quiet about it, but I feel that now I must reveal: Eade probably does not remember this because he was drunk at the meetings.

Here is the photo I took of Eade at the meeting of the FIDE General Assembly in Istanbul. Take a look at this photo and come to your own conclusion.

I think it should be noted that on the chess newsgroups Eade has been attacking Beatriz Marinello, the former USCF Scholastic Director, who has every right to be offended. Eade has also made a lot of ridiculous statements, such as his repeated claim that the Schultz Administration lost one million dollars, when this is obviously not true because there was never one million dollars to lose. The balance sheets and consolidated financial statements do not show any such loss. I doubt that they show any loss at all. To that, Eade says that the financial statements were fraudulent, but he has failed to provide any evidence to support this claim.

Anyway, take a look at this picture of Eade and tell me if you think that Jim Eade was drunk or not.

And remember, I supported Jim Eade for zone president. I thought he would do a good job. Go back and take a look at my Internet postings from that time and you will see that I was in his favor.

Sam Sloan
---
Here are links:

Sam Sloan's Chess Page


Contact address - please send e-mail to the following address: Sloan@ishipress.com